Twinning Action Between Schools in Cambodia and Japan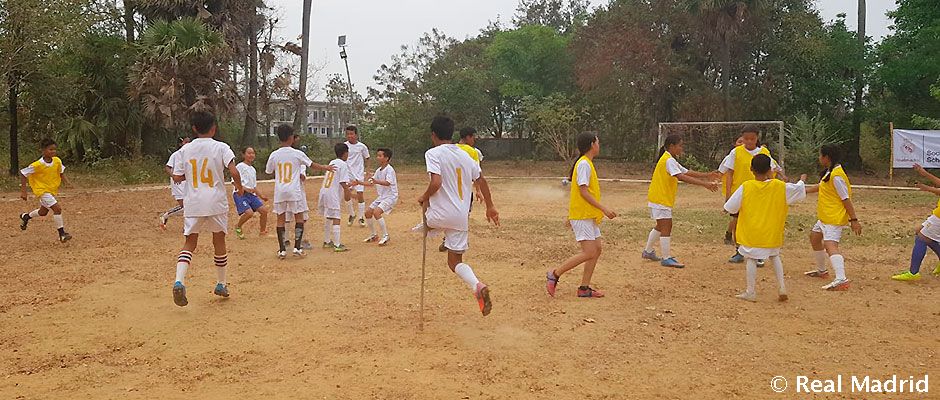 The partner from the Japanese football schools donated some balls for the children at the Battambang school.
The director of the Real Madrid Foundation's football schools in Japan, Kohei Masuda, visited the socio-sports school in Battambang (Cambodia) and donated some size 4 footballs which are not for sale in the country and are more suitable for younger pupils. There he had a meeting with the Apostolic Prefect of the city, Kike Figaredo S. J., with whom he learned about the social activities carried out in the center and the facilities and he celebrated this twinning act between the two schools.
The beneficiaries were delighted with this gift and did not miss a moment to start training with their new balls. They then shared a snack and recalled the visit made last season by the students of the schools in Japan. These schools are developed with the support of GFM (Global Football Management) and every year they train more than 600 children in football and values, and since last season they have been collaborating with this socio-sports school in Battambang to ensure its sustainability.
Five years of activity
The Real Madrid Foundation socio-sports schools in Battambang began their activities in 2015, with the support of Sauce and the Apostolic Prefecture of the city, setting up the first adapted sports school outside Spain. The objective is to attend to a very vulnerable group: minors affected by polio or who have been victims of accidents involving antipersonnel mines. In addition, work is being done so that all children and young people of school age have access to primary education, and people with different physical capacities are accompanied, as well as farmers to dignify their work and offer an accessible health service.
Real Madrid