Angkor entrance passes extended in another urgent measure to help the area's declining tourism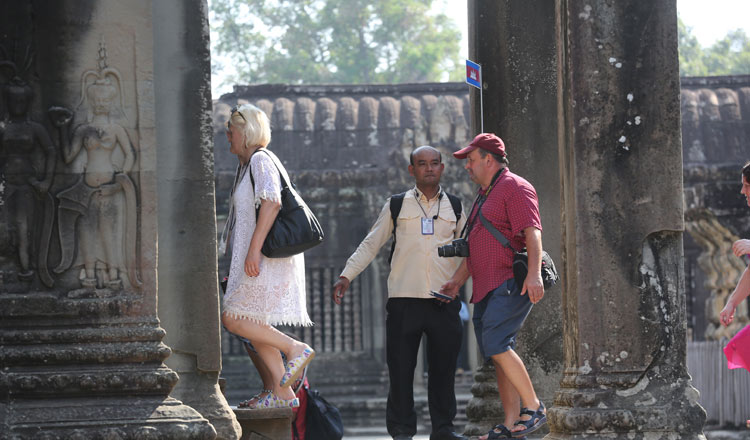 To curb the slowdown of foreign tourist arrivals in the Siem Reap province, the government has decided to increase the number of days that visitors can enter Angkor Archaeological Park with entrance passes.
The announcement from the Ministry of Economy and Finance issued yesterday stated that the move was made amid the outbreak of Covid-19, causing foreign tourists to suspend or cancel their tours, particularly Chinese tourists.
The ministry said those who buy single-day entrance passes can visit the world heritage site for up to two days and those who buy three-day entrance passes can visit up to five days.
With a seven-day entrance pass, foreign tourists can now visit up to 10 days.
This has been implemented to promote the tourism sector and to attract more foreign tourists to continue their stay in Cambodia. While the tourism sector in the region and in Cambodia is affected by the outbreak of Covid-19. The changes will remain effective until June 25 this year, according to the ministry announcement.
Additionally, Angkor Enterprise called for cooperation with tour operators and travel agents to spread the new announcement to tourists in their tour packages.
The adjustment of the Angkor entrance passes come amid the government decided to help hotels and guesthouses in the Siem Reap province through a tax exemption from now until May this year.
The measurement is also to facilitate businesses that are losing visitors because of Covid-19.
Prime Minister Hun Sen also mentioned the adjustment of the Angkor entrance passes this week in a special message regarding the latest situation at the Peace Palace in Phnom Penh.
He said the adjustment of the entrance passes is one of the urgent measures taken in promoting the tourism sector, urging the promotion of more tourism products to tourists both foreign and domestic.
A single-day entrance pass costs $37, a three-day pass is $62, and $72 for seven-day passes. Angkor Enterprise's report showed that about 2.2 million foreign tourists bought passes to the temple complex in 2019, a 15 percent decline over the same period in 2018.
It noted income from ticket sales reached $99 million, decreasing from $116 million in 2018.
Khmer Times