The Outcome of ASEAN-New Zealand Dialogue in Siem Reap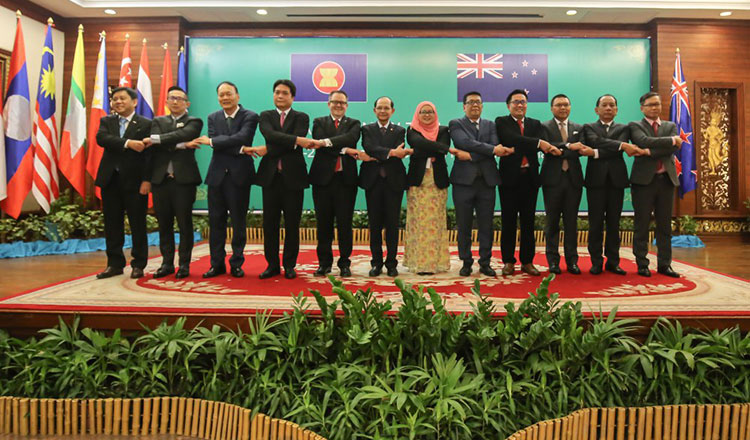 The Foreign Affairs Ministry on Friday issued a statement, highlighting the outcome of the 27th ASEAN-New Zealand dialogue held on 20-21 February in Siem Reap province.
As ASEAN Country Coordinator for ASEAN-New Zealand Dialogue Relations, Cambodia hosted and co-chaired the Meeting with New Zealand.
The Dialogue serves as an opportunity for ASEAN and New Zealand to review their cooperation and chart future direction as well as to prepare for the ASEAN-New Zealand Leaders' Summit to be held on 9 April 2020 in Da Nang, Viet Nam.
In his Opening Remarks as Co-Chair, Kan Pharidh, Secretary of State and ASEAN SOM Leader of Cambodia, reaffirmed ASEAN unwavering commitment to the ASEAN-New Zealand Strategic Partnership that is mutually beneficial.
He expressed great satisfaction with the tangible progress in the implementation of the ASEAN-New Zealand Plan of Action 2016-2020 with all that 59 action lines have been addressed.
Mr Pharidh also stated that Cambodia looks forward to working closely with ASEAN Member States and New Zealand to collectively addressing common challenges and building more success stories together in the future to uphold peace, stability and prosperity in the region.
Benjamin King, Deputy Secretary, Americas and Asia Group of the Ministry of Foreign Affair and Trade of New Zealand, as Co-Chair, also reaffirmed New Zealand's continued commitment to further enhancing ASEAN-New Zealand relations.
He expressed New Zealand's continued support for the ASEAN Centrality in the evolving regional architecture to uphold peace, stability and prosperity to the region.
In the meantime, he shared Cambodia's optimism that the ASEAN-New Zealand Strategic Partnership will reach a new height while New Zealand is working closely with ASEAN to finalize the new Plan of Action (2021-2025) with new practical areas of cooperation, which reflects deep cooperation with ASEAN across the three pillars.
He also stated that New Zealand looks forwards to the successful convening of the upcoming ASEAN-New Zealand Leaders' Summit in Danang under Cambodia's coordinatorship.
The Meeting discussed a variety of issues of common interest and concern. The topics ranged from development in ASEAN, New Zealand and the South Pacific Region, to regional and international issues, such as the Indo-Pacific Concept, Korean Peninsula, Extremism and Transnational Crimes and Climate Change, amongst other things.
The Meeting also reviewed the ASEAN-New Zealand Strategic Partnership by discussing some activities that can be jointly undertaken which focus mainly on disaster risk management, connectivity, and Initiative for ASEAN Integration.
Source: Khmer Times