Ministry Approves Kingdom's First Hybrid Maize Seed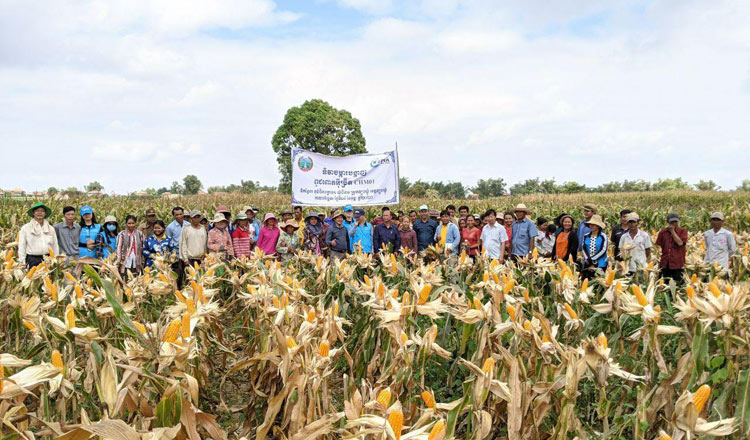 The Ministry of Agriculture Forestry and Fisheries has approved the first Cambodian hybrid maize, named CHM01, for public use throughout the Kingdom.
The seed is cheaper than imported rivals and has recorded higher quality and larger yields.
The CHM01 seed recording, 8.6 tonnes per hectare compared with 7.45 tonnes per hectare for an imported variety. Both yields were planted under the same dry season conditions in the bong Khmum District, Tbong Khmum province, from 2018 to 2019.
Officials state that this achievement has come from both technical and financial support from the Korea Programme on International Agriculture (KOPIA).
Cheattho Prak, deputy director-general of the Ministry of Agriculture, Forestry and Fisheries, said that through set guidelines from the ministry there has been a focus on the study, experiment, research, science and technology of new agricultural crops.
The General Directorate of Agriculture (GDA) has cooperated with KOPIA to research the new hybrid maize at Banteay Dek Agriculture Research Station.
"Now it is time to release and promote this maize variety to the people widely to enable them to test its quality," Cheattho said.
Dr Yong Hwan Kim, director of KOPIA in Cambodia, said that it has opened up a new era of crop breeding by developing the first hybrid variety in Cambodia. All the varieties developed in Cambodia have been inbred varieties so far, thus the new hybrid corn CHM01 is a milestone in Cambodian agriculture science.
He added that the CHM01 is a hybrid seed single cross and is also the very first hybrid maize in Cambodia that is a feed grain.
Kim said that from 2009 to 2018, the centre had tested and observed the seed's development at different stages called Observational Yield Trail, Preliminary Yield Trial, Advance Yield Trial and also the On-farm Adaptive Trial in potential corn-producing provinces such as Battambang, Pursat, Kampong Cham, Tbong Khmum and Kandal provinces at 202 sites.
"At the same time, the researchers also collaborated with local authorities in targeted areas to conduct field demonstrations with farmers. This was to evaluate the acceptance and support from farmers in those targeted areas who planted the new hybrid maize as well as recognition of the adaptation, tolerance and high yield," Kim explained.
"Results of the evaluations and on-field demonstrations in four provinces from 2017 to 2018 have shown that the the CHM01 can be harvested between 100 to 105 days, 10 to 15 days earlier than imported seeds.
The height of the plants range from 165 to 175 centimetres in comparison with the length of some corns that range from 65 to 75 centimetres," he continued.
Source: Khmer Times