PM Hun Sen urges international community to help strengthen Kingdom's unity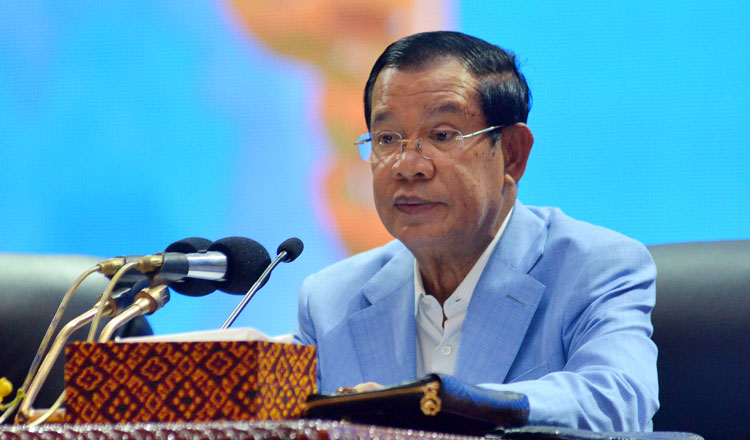 Prime Minister Hun Sen has urged the international community to help strengthen unity instead of trying to disrupt and weaken the Kingdom.
He made the plea on Friday during his closing remarks at the annual meeting of Foreign Affairs Ministry at the Peace Palace.
"The international community should consolidate Cambodia's unity rather than break it up and weaken us," Mr Hun Sen said. "During a time of global uncertainties, big and powerful nations like to use sanctions to pressure smaller countries, which is not good politics."
He added that the international community should respect Cambodia's way of dealing with on its own political issues and socio-economic management.
"The international community should respect the choices the Kingdom makes after its liberation from civil strife in 1979. The government has responded well to the actual need of Cambodians," Mr Hun Sen said. "Our dark past has taught us peace,stability and socio-economic development are vital for Cambodia."
His comments were made before the EU on February 12 decides whether to retain the Kingdom's Everything-but-arms preferential trade status.
To continue the status the EU has demanded that Cambodia address perceived democratic setbacks and human rights violations after former opposition leader Kem Sokha was arrested in September 2017 and charged with treason for allegedly colluding with the United States to overthrow the government.
Two months later, the opposition CNRP was dissolved by the Supreme Court and its senior members were banned from politics for five years.
"As a small country, Cambodia wants to make friends with everyone but sometimes outside pressure makes us want to make friends with this country and foe with that country but we never forget our independence," he said.
"As a prime minister, I never make any decision to please any particular country and I will never do anything to damage our national interests or the people," Mr Hun Sen added.
To counter such international pressure, he said Cambodia must protect and maintain peace, stability,social unity and increase friendships with other countries, boost foreign direct investment and continue supporting and enhancing the multilateralism system.
Chheang Vannarith, president of the Asian Vision Institute, said yesterday that the relationship with Europe and the US is better now compared with last year.
"It is a good sign that Cambodia relationships with the US and Europe are improving and the Kingdom needs to balance the relationship between the West and China," said. "It is not an easy task to strike a balance but Cambodia needs to try hard."
He noted that Cambodia's foreign policy should focus on maintaining peace, stability, social unity and economic growth.
Source: Khmer Times