ASEAN special envoy Sokhonn bound for Myanmar Mar 20-23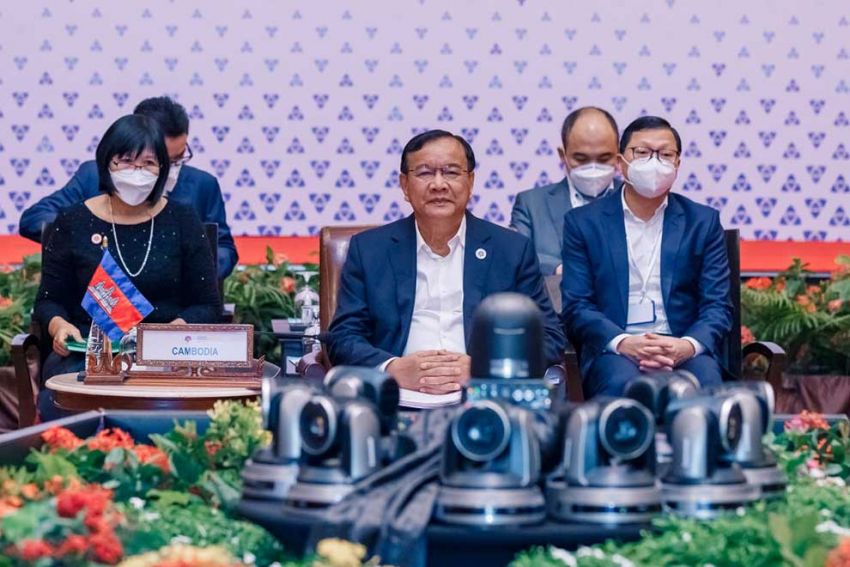 Minister of Foreign Affairs and International Cooperation Prak Sokhonn – who is the ASEAN special envoy on Myanmar – plans to pay a four-day visit to Myanmar on March 20-23, in an effort to find a solution to the crisis there.
He made the announcement while attending a March 2 signing ceremony for key project funding from Japan.
In the presence of Japanese ambassador Masahiro Mikami, Sokhonn reiterated that Prime Minister Hun Sen had expressed his commitment to resolving the Myanmar crisis, following his early January visit.
In a press release on March 2, the foreign ministry said the upcoming visit should break the current deadlock and pave the way for further progress in implementing the ASEAN five-point consensus (5PC).
Speaking at a press conference on February 17 following the ASEAN Foreign Ministers' Retreat hosted by Cambodia, Sokhonn said the aim of his mission to Myanmar would be to establish a dialogue with key parties. He would ask to meet with General Min Aung Hlaing – Myanmar's military chief and chairman of the ruling State Administration Council (SAC) – and SAC-appointed foreign minister Wunna Maung Lwin, along with other key figures from Naypyidaw.
Cambodia did not invite Wunna Maung Lwin to the retreat due to the lack of progress in implementing the 5PC and instead asked Myanmar to send a non-political representative – an offer rejected by the SAC.
"I will go to Rangoon to deliver humanitarian assistance to a hospital. We will make sure that the ASEAN assistance reaches the hands of those who need it most," Sokhonn said at the press conference.
"I will also ask to meet with key figures, and especially with the ASEAN ambassadors to Rangoon, because they have a good grasp on what conditions are like on the ground. I will consider their suggestions before I make my final assessment," he added.
ASEAN member states called on the authorities in Naypyidaw to facilitate the missions of the ASEAN chair's special envoy, in order to move forward the implementation of the 5PC.
Ro Vannak, co-founder of the Cambodian Institute for Democracy, told The Post on March 3 that the visit was aimed at reconciliation with the Myanmar government in order to reach a mutually beneficial solution to that country's crisis.
"The visit reflects Cambodia's determination to seek a solution to the crisis in Myanmar. It will also provide the other ASEAN nations with indications of whether they will be able to work closely with the [SAC]. There will almost certainly be very positive or very negative conclusions drawn from this trip," he said.
Vannak added that other ASEAN member countries should also understand the challenges facing the ASEAN chair, as it tries to mediate with the current leadership of Myanmar and other relevant parties, such as the former civilian administration leader Aung San Suukyi. Phnom Penh Post