ADB Signs $332M Deal with Cambodia to Boost Sustainable Economic Recovery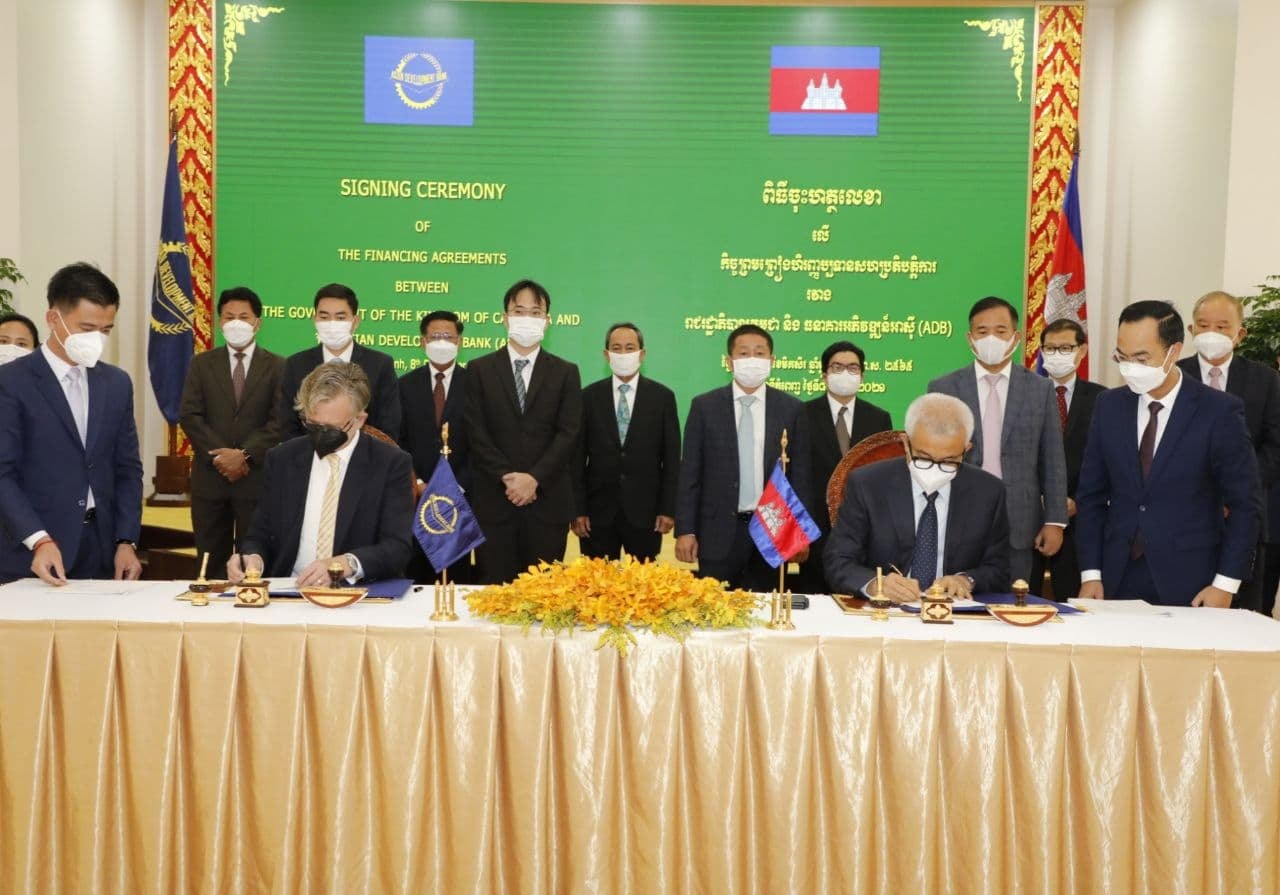 The Asian Development Bank has signed a $332.05 million financing package with the Ministry of Economy and Finance to help Cambodia recover from the impact of the Coronavirus pandemic. The money will be spent on developing the financial sector, building urban infrastructure and improving the road network.
Economy Minister Aun Pornmoniroth signed the loan and grant agreements with ADB Acting Country Director Anthony Gill. They include $30 million for the Greater Mekong Subregion Health Security Project, $180 million for the Livable Cities Investment Project, $82.05 million for the Road Network Improvement Project (Phase 2), and $40 million for the Inclusive Financial Sector Development Program.
"As Cambodia's long-standing development partner, ADB is committed to supporting the country's economic competitiveness and inclusive development," Gill said.
"The projects will boost Cambodia's economic recovery by improving health facilities, financial inclusion, infrastructure and urban services at strategic locations, including road networks."
The GMS Health Security Project will fund laboratory services and infection prevention control at 81 provincial and district hospitals. It will boost disease surveillance and response systems, Covid-19 outbreak management and contact tracing at central, provincial, and district health agencies. The project is also funded by a $5 million grant from the Government of Japan's Japan Fund for Poverty Reduction (JFPR).
The Livable Cities Investment Project will help provide better wastewater and solid waste management services to more than 140,000 residents in Bavet, Kampot, and Poipet. The money will help the cities upgrade urban stormwater and drainage systems and reduce flooding. JFPR provided a $2 million technical assistance grant to support efforts to improve land use planning and governance.
Phase 2 of the Road Network Improvement Project will rehabilitate 48 kilometers of national and provincial roads in Prey Veng and Kandal to boost economic development along the GMS Southern Economic Corridor.
The Inclusive Financial Sector Development Program will help the government expand access to credit among micro, small, and medium-sized enterprises, implement reforms to boost financial stability, and upgrade financial sector infrastructure.
ADB has provided $2.08 billion to fund investment projects in Cambodia. Last year it provided $477.2 million in sovereign loans and grants and an extra $281.3 million through cofinancing. ADB's lending through to 2024 includes $1.38 billion in concessional lending and $36.8 million in grants to support the country's economic development and recovery from the Covid pandemic.