ABC and credit card companies collaborate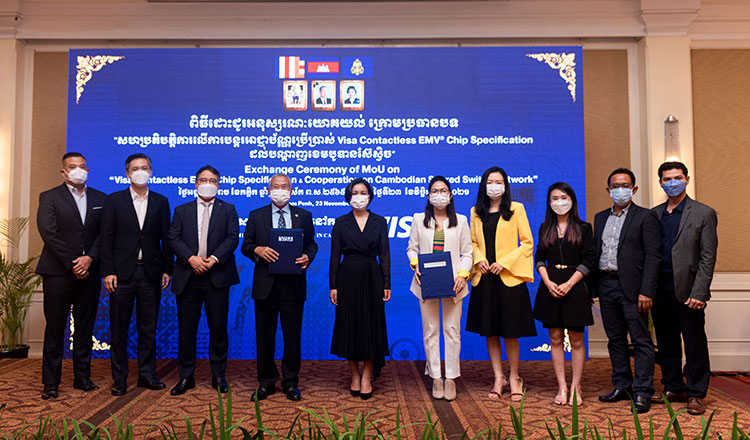 The Association of Banks in Cambodia (ABC) has signed an agreement with International Card Schemes to make Visa, MasterCard and Union Pay International more widely accepted and easier to use in the country.
The three memoranda of understanding (MoUs) aim to encourage wider acceptance of contactless card payments, increase access to automatic teller machines (ATMs) and points of sale (POS) and strengthen Cambodia's payment system.
The signing ceremony was attended by National Bank of Cambodia (NBC) Assistant Governor and Director General of Central Banking Chea Serey, ABA Chairman In Channy and representatives from the three credit card companies. More than 50 people attended the ceremony, with another 100 joining online, including government officials, bank representatives, international card company members and other relevant stakeholders.
The first MoU extends access to Visa's contactless EMV chip standards to strengthen contactless payments and support the Cambodian Shared Switch (CSS) network, to extend credit card access to local ATMs and POS.
ABC and Visa also pledged to work together to support NBC.
In the second MoU ABC and Mastercard discussed issuing a co-badged debit card which meets local issuance and branding standards.
In the third, ABC and UnionPay International also agreed to work together on a debit card that also follows local regulations.
"Payment systems play a crucial role in contributing to economic development through providing efficient payment for trade and funds transfer." Serey said, adding that the rapid development of e-commerce has encouraged banks and financial institutions to leverage technology such as ATMs/POS, contactless and mobile payment and the use of QR codes.
"The MoU signing today will further address remaining challenges by enabling faster adoption of the CSS system for members of institutions, providing the convenience to customers to use payment cards and the CSS system, and improve the NBC's implementation of its notification. Promoting safety and efficiency of the payment systems is the main objective of the National Bank of Cambodia in order to support the financial inclusion agenda of the government and move toward a cashless economy. To achieve this, it requires the commitment and collaboration between authorities and private sector, not only in Cambodia but also in the region," she said.
ABC Chairman In Channy called the MoUs a milestone towards the adoption and implementation of a digital economy and the transformation to a cashless society.
"The ABC and the three international card schemes have been actively collaborating to promote the digital agenda in Cambodian society," he said.
Channy said the MoUs are in line with the government's National Strategy on Financial Inclusion 2019-2025 and the Cambodia Digital Economy and Society Policy Framework 2021-2035, helping the Kingdom build a vibrant digital economy to promote growth and social welfare.
"Providing our technology for co-badging by commercial banks and Microfinance Deposit Taking Institutes is a testament to Visa's commitment to the market," said Monika Chum, Visa Country Manager for Cambodia. "This will allow the entire payments industry to benefit from our world-leading technology, supporting the local payments ecosystem to grow more robust."
Mastercard Country Manager, Vietnam, Cambodia and Laos, Winnie Wong said Cambodian consumers have joined the global move towards adopting a digital-first approach.
"Mastercard is honoured to be part of this MoU that will play a pivotal role in enabling Cambodia's ambition of becoming a leading digital economy. Together with key players in the private and public sector, Mastercard will be leveraging its global knowledge, expertise, and innovation to create a payments ecosystem that provides consumers in Cambodia greater choice and flexibility in how they want to pay, anywhere and anytime," Wong said.
UnionPay International's local general manager, Leang Chenda said her company is fully aligned with NBC on fostering a cashless society in the Kingdom and making financial services more inclusive and efficient.
"We are delighted to collaborate with ABC to help modernise Cambodia's payment infrastructure and encourage more innovation in payment products and services," Chenda said. "Under the co-badge debit card arrangement, ABC members will be able to extend their customer accessibility to the CSS network domestically to support the domestic payment ecosystem. Outside Cambodia, UnionPay customers can use the cards internationally through our network across 179 markets," she said. Khmer Times