CP expands aquaculture business in order to promote fisheries in Cambodia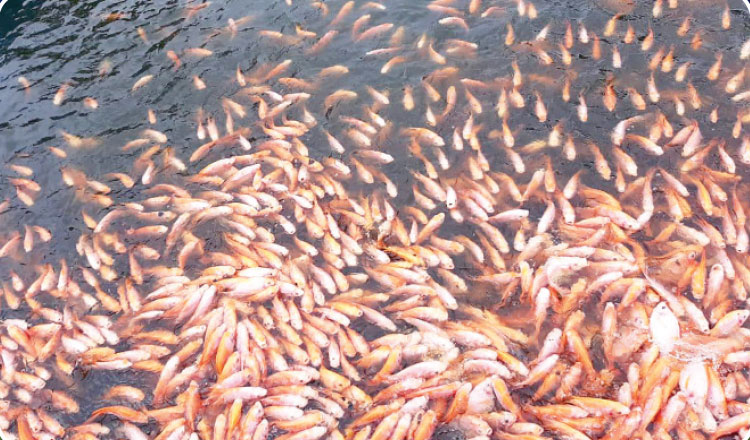 Nowadays, the demand for fish is increasing due to environmental changes, growth of population and decline in natural fisheries. These factors have led Charoen Pokphand Foods PCL (CPF) to develop the aquaculture sector in order to meet the demand in the current market. In the meantime, these changes have clearly demonstrated the earnings opportunities from this business.
As we have known, CPF is a large company operating agro-industrial and food businesses in Thailand, as well as many other countries under the vision of a "kitchen of the world". It focus on business operation based on social and environmental responsibility and those businesses cover a wide range of areas.
The aquaculture business is one of the major businesses of CPF, which has been operating and growing rapidly in Thailand and other countries. The aquaculture business of CPF has expanded to Cambodia since 2019 in order to respond to the needs of the market and to all fish farmers in Cambodia. For the aquaculture business, CP Cambodia has been operating in Cambodia, and it is currently popular for aqua-culturists and to general fish farmers in Cambodia.
Mr. Siwapon Kangkan, General Manager of CP Aquaculture Business in Cambodia said that CP Cambodia has paid close attention to boost quantity and quality aquaculture production in Cambodia in order to meet the needs of the local market and to reduce imports especially, to promote the aquaculture sector in Cambodia to provide growth to economy and society. According to Minister of Agriculture, Forestry and Fisheries Veng Sakhon on December 14, 2020, said that all aqua-culturists had to pay more attention to the implementation of breeding techniques and expansion of the fish farming business more effectively.
Based on sustainable principles, CP Cambodia has promoted Cambodian aquaculture to facilitate business production, increase productivity, local supply and export. The Commission must have in-depth discussions on business production processes and solve issues effectively. For researching and developing fish species, raising techniques will focus on a wide range of quality aquatic food and expand more partners across Cambodia.
CP Cambodia has strongly pay attention to the development of many quality products related to good feed for fish fog and lobster. In order to effectively strengthen the raising techniques, the most important factors is to focus on Breed selection, Feed Management, Water management, Environmental management.
1. Breed selection
In order to be successful in raising fish, the selection of species is very important. Therefore, we should choose the type of fish that has the following characteristics:
Availability of species, easy to raise and fast growing
Resistance to disease, resistance to water borne pathogens
Can eat natural and processed food High market price
Licensed species permitted by the Fisheries Administration
2. Feed Management
As fish are aquatic animals, it is difficult to know how much food to feed them. Do the fish eat all the food? If we give too much food, the fish will not be able to eat all, which can cost us. Meanwhile, the remaining food can damage the water quality, which is harmful to the fish. But, if we give less food, the fish will grow slower than normal. To reduce these problems, there are some guidelines to follow:
Feed fish based on concrete schedule
Feed fish regularly at the same place
Give signs, before feeding fish
The amount of food should be changed
every 1-2 weeks.
Appropriately calculate the amount of fish food
3. Water management
Water is an important factor in raising fish in ponds or pools. Fish farmers need to regularly monitor in order for the fish to grow well and be able to avoid disease. For water quality control, we have to:
Always check the water quality in order to ensure that the water is light green.
Add some fresh plants to improve water quality
For raising fish, water should be changed 2-3 times when the water is not normal and change 20% – 40% of the water surface.
Do not allow cattle, pigs or other activities to affect the water quality
Do not soak leaves or other plants that cause toxicity to water.
Do not use toxic substances such as pesticides or soap in and around the pond
Avoid too many plants in the water
4. Environmental management
The surrounding environment is an important factor in raising fish in order to produce good yields whether raising in ponds or pools.
Must have equipment to protect birds, insects that can affect the fish reeding
Ponds must be high and strong to prevent flooding
Plant grass around pond in order to reduce runoff that makes the water murky.
The bottom of the pond must be flat for easy expansion and harvesting.
Around the pond, there must be embedded pipes to drain the water into other ponds.
Therefore, in order to further promote aquaculture in Cambodia such as raising of fish, frog, shrimp, the key component that must be implemented is the selection of species, food and techniques that are truly the driving forces for a successful raising.