Growth Board success: DBD Engineering IPO ends its first session on a high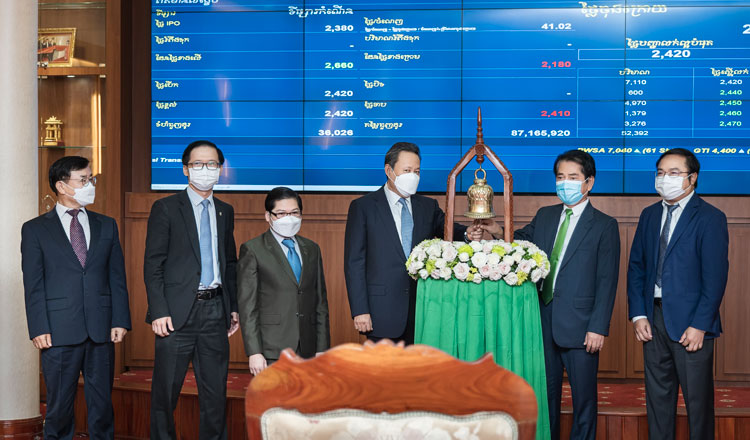 The landmark initial public offering (IPO) yesterday ushering in a new era for the Growth Board was subdued because of Coronavirus restrictions.
Only 15 people were allowed to witness the ringing of the bell as DBD Engineering Plc shares began trading at 9am.
The company ended its first session as a publicly listed company with share prices increasing 0.83 percent to 2,440 riels per share.
"It was a great start for DBD stocks. During its first trading day, investors found it to be as attractive as stocks on the main board," CSX Director Kim Sophanita told Khmer Times.
The firm was anticipated to begin trading at 2,380 riels per share but was oversubscribed.
As a result, trading under the ticker "DBDE", the company's became available at a 2,400 riels per share. A total of 351,341shares traded hands with a value of approximately $210,000.
"The stock experienced high liquidity today," noted SBI Royal Chief Executive Officer Seng Chan Thoeun. "Investors should consider DBD Engineering to be a long-term investment so that they can fully enjoy the company's potential."
"Even though there was a modest increase in the stock price, I am glad to see that many retail investors were involved in its first day of trading. We worked hard to ensure that the investment was viable and attractive to investors by setting a minimum guaranteed dividend of 5.5 percent, the highest available on the Cambodian market," Thoeun added.
Hean Sahib, secretary of state at the Ministry of Economy and Finance, said he encouraged regulators and the exchange to continue in their "joint effort to attract companies from all sectors as well as foreign and local investors to participate in stock trading".
DBD Engineering provides mechanical, electrical, plumbing and construction services with the company having worked on notable projects including both Aeon malls, Chip Mong Shopping mall and Calmette Hospital in Phnom Penh.
The company previously said in its prospectus that it will use 30 percent of the proceeds to fund its construction business, another 20 percent for additional working capital, 10 percent to purchase and upgrade equipment and the remainder for "general corporate purposes".
It registered $12.53 million in revenue last year and is forecast to generate $12.71 million this year.
The CSX first announced the creation of the Growth Board for small and medium-sized enterprises in 2015.
DBD Engineering's IPO is considered to be a watershed moment for the exchange with insiders saying they anticipate tickers on the Growth Board to eventually outnumber the main board.
A second listing on the Growth Board is expected later this year with JS Land having received principle approval from the CSX and is awaiting word from regulators.
A third listing is also in the cards provided the pandemic does not disrupt markets. Khmer Times