DBD Engineering makes its debut on the CSX Growth Board on Monday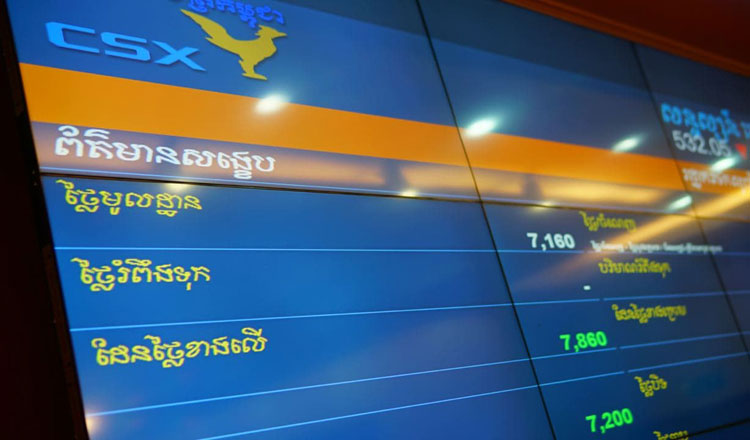 DBD Engineering will make its debut on the Cambodia Securities Exchange on Monday. It will be the eighth stock to list on the CSX and the first on its Growth Board.
All 6,461,538 shares were sold ahead of its initial public offering (IPO) during a subscription period that ran from July 26 to Aug 18.
DBD reported total revenue of $12.53 million last year and is forecast to generate $12.71 million in 2021. It is one of the Kingdom's leading mechanical, electrical and plumbing engineering firms, carrying out major work for both Aeon malls in Phnom Penh and building the North Park and Dodajiu condominiums.
To list on the Growth Board companies need to have made a net profit in the last year or have positive operating cash flow or gross profit margin of 10 percent or more. Shareholders' equity must be more than 2 billion riels ($500,000) in comparison with the Main Board's 30 billion riels ($7.5 million) minimum.
The CSX Growth Board was set up in 2015 to attract listings from small and medium-sized enterprises (SMEs) that were having problems raising capital. Nine of every 10 Cambodian companies are SMEs. They employ 70 percent of the Kingdom's workforce and account for around 58 percent of the country's gross domestic product.
"We are very excited to have the first listing on our Growth Market with another expected to follow in coming months. We expect this will attract more investors in Cambodia's stocks and bonds," said CSX Director Kim Sophanita.
SBI Royal Securities is the sole underwriter and liquidity provider (LP) for DBD Engineering, winning approval from regulators on Wednesday to be the market maker for DBD and Sihanoukville Autonomous Port for the next two years.
"The LP role is a crucial need for the market at the moment," said SBI Royal's Chief Executive Officer Seng Chan Thoeun. "SBI Royal is committed to the development of capital market. Being the LP for the stock we underwrite, we believe it will improve the liquidity and quality of the market," he said.
A second listing on the Growth Board is expected as early as next month.
JS Land is a Phnom Penh-based "affordable housing" developer, incorporated in 2014. The company hopes to raise $3.8 million from the IPO and use part of those proceeds to fund the construction of phase two of its Garden Residency condominium in Phnom Penh's Sen Sok district.
It is still waiting for approval from the Securities and Exchange Regulator of Cambodia (SERC). If it gets the nod a public subscription is likely this month.
There are also seven bonds listed on the CSX, with another likely to follow soon. Telcotech Ltd has received approval for its listing eligibility review from the CSX and its application is now being considered by the SERC. The company is an internet service provider through EZECOM and helps builds data centres.
The CSX opens to receive orders from 8am to 3pm. DBD Engineering stocks will start trading when the market opens at 9am. Khmer Times