Ministry encourages investment to meet mango export demand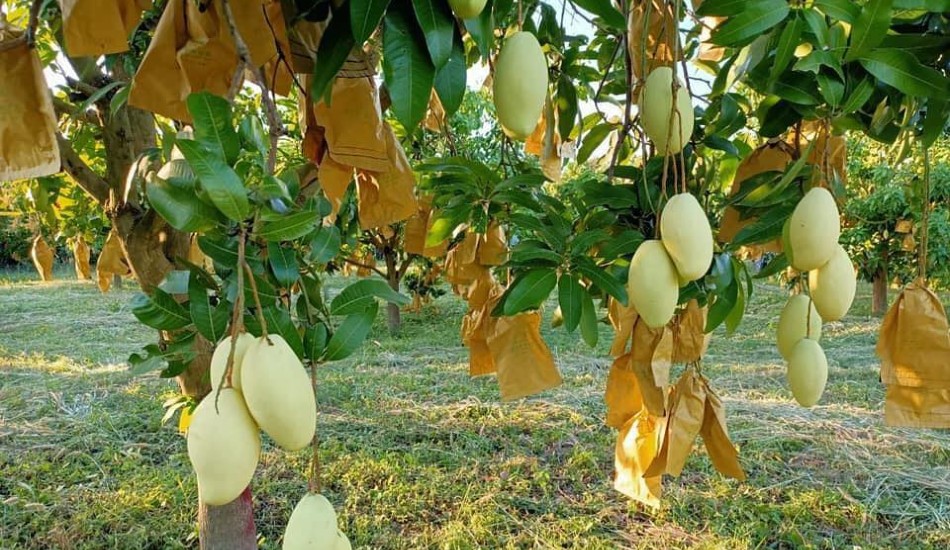 The government is encouraging more investment in agriculture as demand for the Kingdom's mangoes grows. Exports to eight foreign markets continue to increase sharply, according to the Agriculture Ministry, from China, Japan, South Korea, the Philippines, Thailand, the US, Vietnam and the UK.
Cambodia exported more than 12,700 tonnes of mangoes in the first half of the year, nearly double the amount in the same period in 2020. China bought 82 percent of the mangoes, with Thailand, the Philippines and Japan the next three biggest markets respectively.
The Cambodia-China free trade deal signed last year contributed to the Kingdom shipping mangoes directly to China in May. China only approves mango and banana exports because of strict sanitary regulations of fresh produce. Cambodia used to ship fruit to Vietnam for processing but now has its own steam sanitising units. The government hopes upgrading its processing facilities will allow it to export more types of produce directly to China.
Exports of fresh mangoes directly to China are seen as part of increased agricultural cooperation between the two countries.
Cambodian Agriculture Minister Veng Sakhon and Chinese Ambassador to Cambodia Wang Wentian witnessed a ceremony held in Phnom Penh marking the first shipment of Cambodian fresh mangoes to China.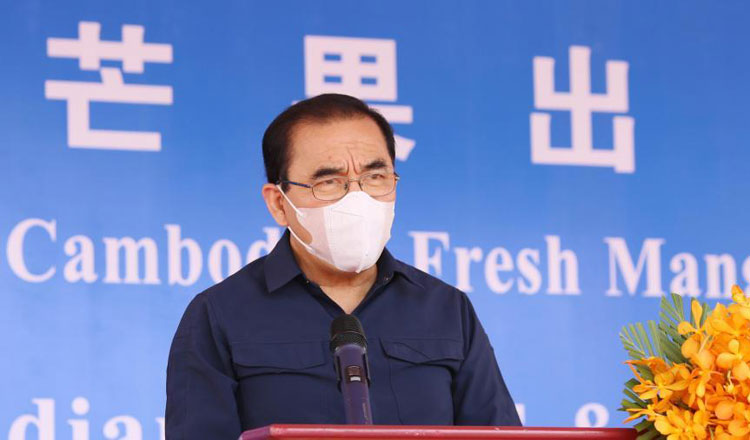 "It will not only contribute to boosting Cambodia's economy during the Covid-19 pandemic, but also help reduce poverty in rural areas," Cambodian Agriculture Minister Veng Sakhon said.
The minister said the export came after both countries signed a protocol in June last year on phytosanitary requirements that paved the way for the export of fresh mangoes from Cambodia to China.
In April, the General Administration of Customs of China certified the first 37 mango orchards and five packaging plants to export Cambodian fresh mangoes to China, the minister added.
"Fresh mango is Cambodia's second fresh fruit to gain official access to the Chinese market directly after bananas," Sakhon said. "This is a new achievement that was born of the excellent cooperation between Cambodia and China."
He said Cambodia has nearly 132,000 hectares of mango trees, yielding around 1.38 million tonnes of fresh mangoes annually.
Wang, who participated in the event via video conference, said the growing agricultural cooperation would undoubtedly contribute to building a community of shared future for China and Cambodia.
"This is another substantive achievement of China-Cambodia pragmatic cooperation during the pandemic and it will greatly promote [the two nations'] cooperation in the agricultural field," he said.
Since the successful export of Cambodian yellow bananas to China in 2019, the industry has enjoyed a leapfrog development, Chinese Ambassador to Cambodia Wang Wentian said.
"As China opens the mango market for Cambodia, I believe that the Cambodian mango industry will also grow like the banana industry," he said. "It will provide more employment opportunities for Cambodian farmers, increase farmers' income and living standards and benefit the people of both countries."
Cambodian Ministry of Commerce's Undersecretary of State and spokesman Penn Sovicheat said the first direct export of Cambodian fresh mangoes to China marked a significant breakthrough in gaining access to a huge market for Cambodian fresh fruits.
"We are proudly expecting prosperity of this business in the long run and this milestone also helps us to achieve our goal in diversifying our agricultural products for export purposes to the world market as well," he said.
Cambodia remains a sustainable source of agricultural products to the Chinese market, Sovicheat said, adding that the Kingdom is ready to provide quality products such as fruits, rice and other agricultural food stuffs to meet Chinese market demand.
"During the period of this pandemic, we appreciate the good gesture of the Chinese government, who always provides good cooperation and strong support for Cambodia, both in humanitarian and economic aspects," the spokesman said.
Mango trees have been cultivated in Cambodia for thousands of years ago. It is very popular in Cambodian's daily consumption. The mango tree is well-suited to Cambodia soil and the climate. Therefore mango trees are grown across the entire country.
Mango can be served as a vegetable as well as a dessert. Unripe mangoes are used as sour spice in a Khmer soup which called Samlo M'chu and young mango leaves are used in Teuk Kreung and Prohok (fish paste) – a special daily Khmer food. Mango salad is made using unripe or green mangoes mixed with shrimp, pork, chicken flesh or dried fish. Khmer people like unripe mangoes. Khmer Times