Officials meet with their EU counterparts to talk recovery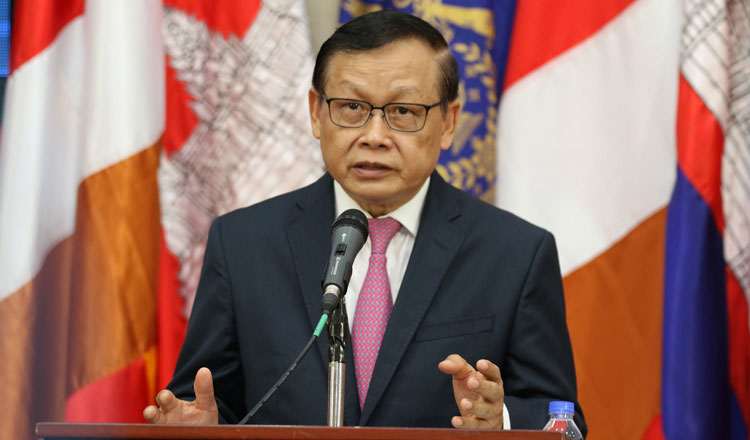 Senior government officials and European counterparts met last Friday to discuss Cambodia's economic plan. New trade policies to help the Kingdom recover from the pandemic were the focus of the conversation as well as the World Trade Organization's role in shaping the post-pandemic recovery.
The two sides exchanged views on the role of economic development under the World Trade Organization (WTO) framework, with a special focus on reforms and the new WTO Dispute Resolution System.
Commerce Minister Sok Sopheak will represent Cambodia at the 12th (WTO) Ministerial Conference to be held in November. A number of key issues including the ratification of a new fisheries subsidies agreement and electronic trade negotiations are said to be on the agenda during the Ministerial Conference.
Sopheak stressed the importance of providing flexible and Special Differential Treatment policies to least-developed countries, particularly in regard to fishing subsidies, as the global recovery begins to take shape. He also briefed Brussels on Cambodia's Covid-19 Recovery Plan 2021-2023.
Garcia Bercero, director and chief negotiator for the European Commission, and Petros Sourmelis, head of trade for the European Union, highlighted the need for sustainable development during the post-pandemic recovery.
Sopheak also gave the closing remarks at the China Future Forum, where he touted the strength of multilateral relationships between ASEAN and Asia's largest economy.
"Now, we are exploring new initiatives to facilitate increased ASEAN and China trade investment flows and enhancing the trading environment, including exploring the possibility of upgrading the ASEAN-China Free Trade Agreement (ACFTA) upgrading protocol to provide market access and higher standards for a more comprehensive and open ACFTA.
"Moreover, with RCEP ratification in the future, the potential to expand and strengthen ASEAN and China trade relations is unlimited because this agreement represents one-third of global GDP [gross domestic product] and 30 percent of the world's population. This mega-trade agreement is modern, comprehensive and high quality. More importantly, it will help reduce trade costs for businesses and further integrate ASEAN into the global supply chain for electronics, vehicles, textiles and garments," said Sopheak.
Total trade between ASEAN and China reached more than $579 billion in 2019 and total foreign direct investment amounted to $8.97 billion the same year. Khmer Times