World's Largest Secure Logistics Firm Enters Cambodian Market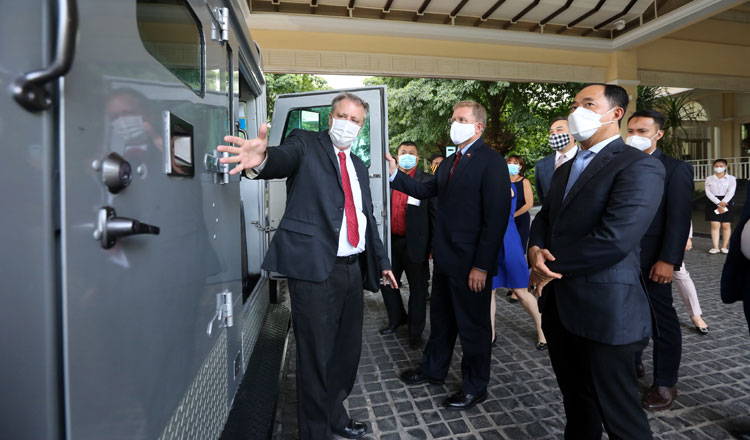 WorldBridge Secure Logistics (WSL) has rebranded as Brink's WorldBridge Secure Logistics (BWSL) with the full fledged entry into Cambodia of Brink's, the world's largest secure logistics company.
The rebrand was announced on Saturday at the Sofitel Hotel in Phnom Penh.
Sear Rithy, founder and chairman of WorldBridge Group, was joined at the ceremony by United States (US) Ambassador to Cambodia Patrick Murphy, Brink's consultant and BWSL co-founder Christian Berger and former American Chamber of Commerce in Cambodia President Allen Dodgson Tan, who is also the director of business development for WorldBridge Group.
WSL has been in the secure logistics and cash-in-transit (CIT) business since 2012. The company provides local and international logistical support in moving cash, precious metals, diamonds and jewelry and other valuable cargo, according to its website.
WSL is part of WorldBridge Group, one of the leading business conglomerates in Cambodia.
Brink's was established in the US in 1859 and has been in the secure logistics business for more than 150 years. Currently, the company has 900 networked offices in more than 110 countries across North America, Asia, Europe, Africa, Oceania and South America.
Brink's, which is headquartered in Richmond, Virginia, has more than 53,900 staff members worldwide and is entrusted with the handling of valuables worth billions every day, according to the company website. Its clients include more than 800 banks worldwide.
In 2001, Rithy met with Gary Freedman, Brink's country manager for Vietnam and Cambodia, to discuss a possible tie-up.
Brink's officially started working with the Cambodian company eight years ago. In 2013, WSL was selected to provide global services to Brink's clients in the Kingdom.
"Our relationship flourished and grew together with the Cambodian economy," Rithy said.
In 2018, the two companies entered into a joint venture, with Brink's injecting capital and know-how to Cambodia.
"Our venture has been extraordinarily successful, leading us to this event here today," the WorldBridge Group chairman noted. "Today, we are gathered here to unveil the Brink's name for the first time in the Cambodian market."
Murphy, for his part, noted that Brink's is an iconic US brand. "In America, Brink's is synonymous with security," he said. "I am pleased to have an American business contributing to Cambodia."
Murphy said US investments will help deepen the ties between the two countries. The US invested $1.124 billion in Cambodia between 1994 and 2019, according to local media reports.
Going forward, WSL's fleet of armoured vehicles will use the standard Brink's logo, according to Berger.
BWSL currently has a fleet of 28 vehicles that transport valuables nationwide, including in Phnom Penh and the provinces of Siem Reap, Preah Sihanouk (Sihanoukville), Battambang, Kampong Cham, Kampot, Kampong Thom, Banteay Meanchey, Svay Rieng and Takeo.
According to the company's website, all the movements of the vehicles are arranged and monitored by expert transportation coordinators, cameras and a GPS tracking system. Those movements are tracked 24/7.
The newly-rebranded company, according to Berger, will add more products, such as a new cash processing centre, ATM servicing and intelligent safes.
There are currently four to five companies offering the same services in Cambodia.
In a subsequent media briefing, Rithy expressed confidence that rebranding will lead to more success because of the Brink's name. He reported the company currently services more than 200 clients in the Kingdom.