Startups hope to solve some big picture problems with new tech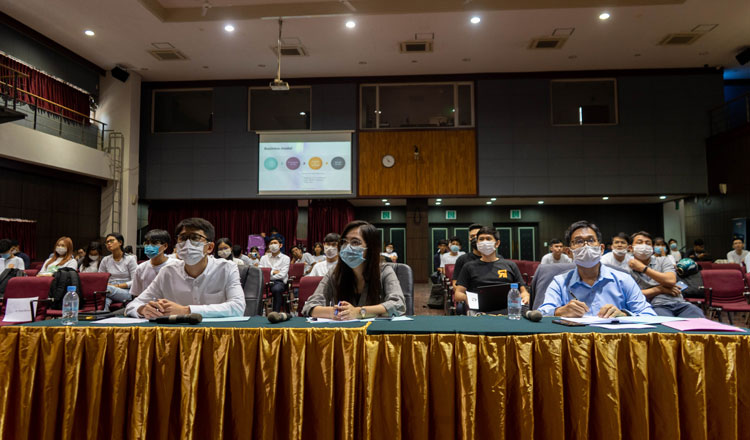 Nine startup teams will make their final pitch today to five Cambodian companies and organisations during the final leg of the Reverse Innovation programme, which kicked off last December.
At the beginning of the programme, seven companies and organisations posed 11 urgent problems within their industry and a group of 45 startup teams set out to solve them. After the nine remaining teams make their pitch, a panel of judges will determine the winner. The winning team will receive 40 million riels, second place will receive 30 million riels and third place will receive 20 million riels.
The initial set of 11 problems were posed by Smart Axiata, AMK Microfinance Institution, the Cambodian Association of Finance and Technology (CAFT), Credit Bureau Cambodia (CBC), Agribuddy, Wing Specialised Bank and PPC Bank. Five of the problems remain in the final round, with teams working to provide solutions for AMK, the CBC, CAFT, Smart and Wing.
Smart's problem statement was to find a way to incentivise their customers to fully complete their profiles because a large portion of customers have submitted incomplete or inaccurate data. This would help the company keep in line with Know Your Customer (KYC) guidelines which stipulate that companies make an effort to fully identify all customers to determine their suitability.
The National Bank of Cambodia announced that financial institutions and payment service providers can offer expanded services such as increased withdrawal limits for customers who are fully vetted by KYC procedures. AMK also asked for a solution to fully identify customers to stay in line with KYC procedures. The financial institution said a unified digital identification service was needed to help streamline identification processes and make it easier for financial institutions to offer services.
Wing asked "How can Wing revolutionise and incentivise savings in a simple and easy-to-access manner?" The company said bridging the gap between supply and demand for savings innovations would help with its financial inclusion goals.
CAFT issued two challenges to be addressed at the virtual event today: one for establishing a connection between payment gateways and accounting systems and one for verifying users' identities. CAFT said the labour-intensive manual recording of transactions from payment portals into accounting systems needed a product which could automate the process.
For user identity, CAFT mentioned similar issues to Smart and AFK, around the ensuring of a user's identity when they register for an online service.
CBC's problem likewise addressed the issue of user identity authentication and digital onboarding. When registering, an individual could be using multiple forms of identity (national ID, passport, birth certificate, family book), making it challenging to identify whether the person is a unique individual using multiple forms of identity. The organisation expressed its need for a mechanism to perform real-time identity verifications.
The Forward Pitch Day will be presided over by Undersecretary of State at the Ministry of Economy and Finance and charirman of the board of directors of Techo Startup Centre, Kong Marry, Techo Startup Centre executive director Nguonly Taing, Khmer Enterprise Chief Executive Officer Chhieng Vanmunin and Chairman of the Association of Banks in Cambodia, In Channy. Khmer Times