Pol Ham and Sokha's lawyer granted political rehabilitation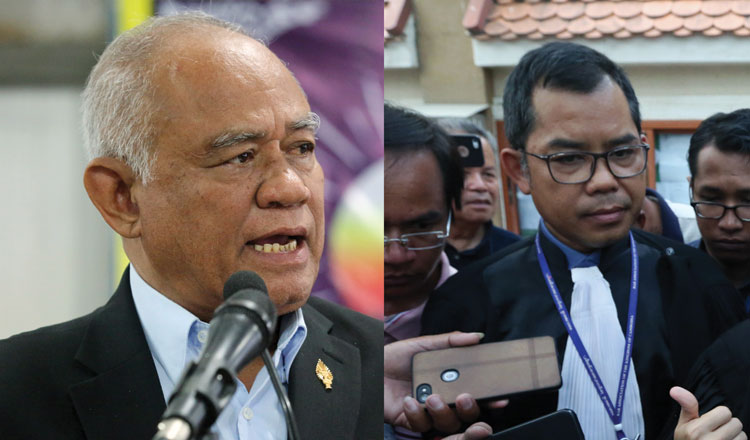 King Norodom Sihamoni yesterday issued two royal decrees, lifting the five-year political ban on veteran politician Pol Ham and one of former opposition leader Kem Sokha's lawyers Phan Chansak, days after they made a request to the government asking for political rehabilitation.
According to two separate royal decrees signed by the King, he granted political rehabilitation for Ham, a former first vice-president of the court-dissolved Cambodia National Rescue Party (CNRP), and Chansak, also a former CNRP senior official.
The King also instructed Prime Minister Hun Sen to implement the royal decrees effectively.
Ham and Chansak submitted requests to Interior Minister Sar Kheng on Monday, asking the government to review the procedure to give them political rehabilitation.
They are willing to join the newly created opposition Cambodia Reform Party (CRP) which is founded by a group of former CNRP senior officials.
When contacted yesterday, Chansak said he is aware of the King's royal decree but has not received the original decree from the Royal Palace yet.
"My political rights were restricted for more than three years after the dissolution of the CNRP. It's an injustice for me," he said. "I'm a politician. If I am not allowed to do politics, I am bored."
Chansak said he and other former senior CNRP members who recently received political rehabilitation from the King will join the CRP to challenge the ruling Cambodian People's Party in the upcoming elections.
The CPP has welcomed the move made by Ham and Chansak, saying it wants viable challengers to participate in the 2022 Commune Elections as well as the 2023 National Elections.
CPP spokesman Sok Eysan said on Wednesday that the party wishes to see "potential competitors" for the upcoming election and it also welcomes the fact that Ham could become a new party president.
"First, he lost faith in the leadership of an illegal rebel leader (ex-CNRP's co-founder Sam Rainsy). Second, he had no hope of reviving the former opposition party, and third, it was the exercise of his right to political activism, I welcome his return," Eysan said.
Chansak said yesterday the CRP will welcome other ex-senior CNRP officials, who previously created political parties, to join the CRP in order to compete with the CPP.
Currently, there are four parties that have broken away from the ex-CNRP. They are the Cambodia National Love Party (CNLP) headed by Chiv Kata, the Khmer Will Party (KWP) headed by Kong Monika, the Khmer Conservative Party (KCP) headed by Real Camerin and the CRP.
However, Rainsy alleged that Mr Hun Sen has attempted "to manufacture an artificial opposition", claiming the new opposition parties are using Sokha's name to attract ex-party supporters.
Sokha has called on his former colleagues to avoid using his name, saying any person or groups that intend to "form, is forming or has formed" political parties should not associate his name with them. He said individuals or groups doing so should have the courage to take responsibility for themselves.