50K more of Sinovac vaccines arrived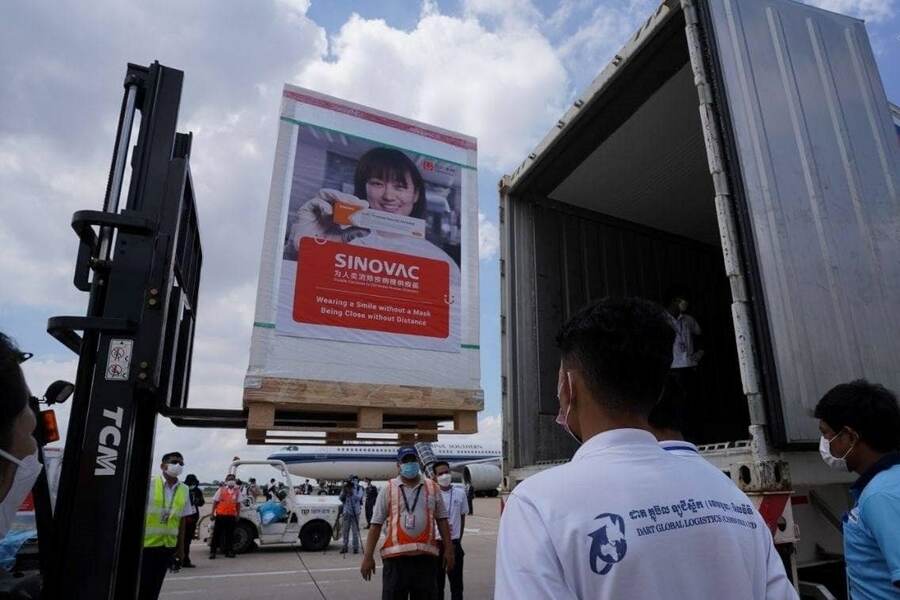 Cambodia has received an additional 500,000 doses of the Sinovac vaccine from China that was ordered by the government.
The delivery of the doses yesterday was the fourth shipment of vaccines ordered by the government.
The first 1.5 million doses were delivered on March 26, the second batch of 500,000 doses arrived on April 17 and the third batch of 500,000 doses arrived on May 11.
Health Ministry spokeswoman Youk Sambath told reporters at the Phnom Penh International Airport that the new batch of vaccines would continue to be given to people living in the Red Zones first, especially citizens living in Russey Keo, Por Senchey, Meanchey and Kamboul districts.
Sambath said that the Health Ministry will expedite the vaccinations as soon as possible by working with the military to achieve the government's plan.
"The management of the February 20 Community Event could not have been successful without the participation of all the people, and in particular, the vaccine against Covid-19 was seen as an additional important tool in the operation to fight coronavirus and help prevent human health from the attack of Covid-19 diseases," she said.
"We see that only China continues to supply vaccines to Cambodia through the 'Ironclad Friendship' between the Cambodian and Chinese governments, and the Chinese Ambassador to Cambodia has always provided some medical supplies and equipment to the Ministry of Health to participate in preventing the spread of Covid-19 in the Kingdom," Sambath said.
The Chinese government has announced its firm stance in helping Cambodia fight the Covid-19 virus successfully.
Chinese Ambassador Wang Wentian once emphasised that China and Cambodia were good brothers and sisters, like arms and legs, and good friends who always help each other.
As long as the Covid-19 disease in Cambodia is not over, Chinese aid to Cambodia will not be stopped, he said.
Cambodia has already received more than 4.5 million doses of vaccines, including 1.7 million doses of Sinopharm aid from the Chinese government, 2.5 million doses of the Sinovac vaccine purchased from China and 324,000 doses of the Oxford/AstraZeneca vaccine from the COVAX Facility through the World Health Organization.
Cambodia started vaccinating people on February 10, and so far, more than 2,066,813 people have been vaccinated.
Prime Minister Hun Sen has stated that he will seek more than 20 million doses of vaccine for more than 10 million people to reach herd immunity.
For 2021, there will be a series of vaccines coming to Cambodia for people to be vaccinated as planned.
On May 23, Cambodia will receive another one million doses of vaccine. In June three million doses are expected, with another two million doses in July and one million doses in August.
Cambodia has become the second country in Asean after Singapore that has vaccinated more of its people faster.
The new shipments of the vaccine will enable Cambodia to achieve its immunisation plan, which is expected to inoculate 13 million people by the first half of 2022, with the expectation of a successful anti-Covid-19 mission to improve the economic situation. Khmer Times