The Kingdom pushes for Vaccine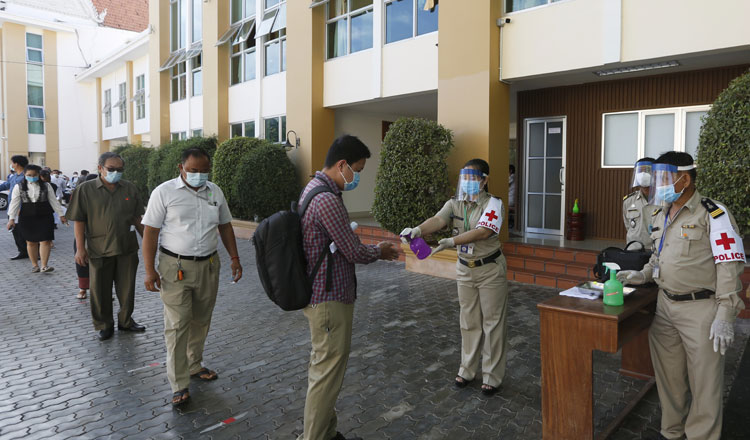 Prime Minister Hun Sen has ordered the Health and Finance ministries to allocate money and purchase COVID-19 vaccine doses.
In a Facebook post yesterday evening, Mr Hun Sen said: "Now some countries have produced it and put it for vaccination, and they are sold to other countries too. This evening, I suggested that the Minister of Health discusses it with the World Health Organization to determine which country we should purchase the vaccine from."
"I also advise the Minister of Finance to allocate a budget for the first purchase of one million doses to be given to those working in high-risk areas. One million doses can be used for 500,000 people (because one person needs two vaccinations)," he said.
Mr Hun Sen said, in case of funding shortage, the two ministers should discuss it with development partners to seek additional assistance.
He said that the Ministry of Finance should set aside the money to purchase another two or three million doses for the next phase.
Meanwhile, Interior Minister Sar Kheng yesterday ordered immediate mass testing at the Interior Ministry amid concerns over the COVID-19 community transmission.
In his directive, Kheng said all officials, including civil servants and national police must have their samples tested in the ministry compound.
Kheng also ordered civil servants, National Police officers and General Department of Prisons officers and officials in departments inside the ministry not to come to work for a while until further notice.
He said all officials who did not have their specimens tested previously had to do the tests yesterday.
This directive was issued following recommendations by Mr Hun Sen, and in consultation with the Ministry of Health to prevent the spread of COVID-19 to civil servants, National Police officers and prison officers working in the Ministry of Interior, as well as in the community.
Kheng also said that the ministry is closed temporarily and all officials must undergo a 14-day quarantine.
Separately, the Ministry of Health has identified five locations for direct and indirect testing today. The tests will be done at National Assembly president Heng Samrin's home, Kheng's home, the military barracks in Tuol Krasaing, Kandal province for the Prime Minister's bodyguards and at the National Olympic Stadium for the citizens directly and indirectly affected during the "November 28 community incident".
In related news, Mr Hun Sen yesterday reiterated that he had not asked the King for permission to put the country in a state of emergency and had not issued an order to lock down Phnom Penh.
His statement came after rumours were circulated that there was a request for a state of emergency and the closure of the capital.
Mr Hun Sen said on his Facebook page: "Throughout the day, exaggerations have been made that the country will be closed or Phnom Penh will be closed in the coming days, and people were asked to stock up on provisions."
He added: "In the face of such lies, as the head of the government, I would like to assure that there will be no request for a state of emergency in whole or in part, and there will be no issuance of an order to close Phnom Penh."
Mr Hun Sen called on the people to remain calm, not to panic and to join the government in the fight against COVID-19.
The rumours came after Mr Hun Sen's voicemail on Sunday morning, revealed that preparations were being made for a letter requesting a royal decree on the state of emergency. But in the message, he had already stated that he does not want to get to this point, because it would adversely affect the economy and people's livelihoods. Instead, he called for the participation of the people to fight against COVID-19.
In another development, the Kingdom yesterday logged two new local infections linked to the "November 28 community incident", bringing the number of COVID-19 positive cases to 32, the Health Ministry said.
Y Dara, 21, tested positive for the virus yesterday after coming in direct contact with another infected man.
He lives in Meanchey district's Boeng Tumpon commune.
The ministry said that Dara lived with Nhel Sok Kola, 22, a staff member at Pedro. Sok Kola tested positive for COVID-19 on Thursday. He is being treated at the Khmer-Soviet Friendship Hospital.
Dara is being treated at Chak Angre Health Centre in Phnom Penh.
The other case is Chy Pich Chhara, 29, living in Meanchey district. She is a civil servant at the Ministry of Interior. She tested positive for the virus yesterday after shopping at Zando on November 27.
She is being treated at Chak Angre Health Centre.
From November 29 to Sunday, the Health Ministry has tested a total of 11,305 people, of whom 32 were positive for COVID-19 connected with the community incident.
They are being treated at the Khmer-Soviet Friendship Hospital and Chak Angre Health Centre.
Meanwhile, human rights NGOs have claimed that the government's decision to disclose the identities of COVID-19 patients "has infringed on an individual's right to privacy".
On Friday, Prime Minister Hun Sen allowed the Ministry of Health to reveal the identities of the COVID-19 people, including their photos, names, and addresses in a bid to track down those who came into contact with them.
Chak Sopheap, executive director of the Cambodian Centre for Human Rights (CCHR), said yesterday that the public health crisis does not warrant the total abandonment of the right to privacy and data rights.
"The government must practice data minimisation and limit its processing of personal information of COVID-19 patients, only recording what is strictly necessary," she said.
"The sharing of personal data, or personally identifiable information, is a violation of the right to privacy if alternative methods are available that do not compromise the privacy of individuals," she added.
Sopheap claimed the government's decision to name COVID-19 patients and share a photo of them puts those individuals at risk of discrimination and harm from the public.
"We implore the government to exercise the utmost caution when releasing information about positive cases and to explore all alternative less restrictive measures of contact tracing to mitigate against the spread of COVID-19 among the community," she said.
Am Sam Ath, deputy director of monitoring for human rights Licadho, agreed that the move violated an individual's right but said it helps to prevent or minimise a community spread.
"Disclosing names and photos of COVID-19 patients in public is to let people in direct and indirect contact with someone infected with COVID-19 be careful and they will not infect others. They will go for testing," Sam Ath said.
"We urge people not to discriminate against COVID-19 patients whose names are revealed to the public because no one wants to contract the disease," he said.
Leap Chanthavy, a political and social affairs analyst, said yesterday that revealing the identities of affected patients was a question of weighing which is a lesser burden. That of life, as the Prime Minister has said or that of privacy in which case, the possibility of silent carriers of the virus going around infecting others unknowingly increases.
"There may be views that this will stigmatise the COVID-19 patients when their privacy has been invaded but on the positive side, they are alive and receiving treatment and many others have come forward to get tested. This is a bigger positive," he said. "When an ambulance pulls up in front of the victim's house with medical personnel dressed in hazmat suits, it is clear to everybody who is in that area as to what is going on. So let us not overreact. The government has to do what is necessary to contain the community outbreak before the numbers become unmanageable."
To date, Cambodia has found 348 COVID-19 cases in the country. Of them 306 have recovered and there are no fatalities. They include 230 Cambodians, 45 French, 18 Chinese, 13 Malaysians, 11 Americans, nine Indonesians, six Britons, three Vietnamese, three Canadians, three Indians, two Hungarians, two Pakistanis, one Belgian, one Kazakhstani and one Pole.
In a related matter, the Ministry of Health yesterday warned people not to heed Facebook posts on COVID-19 self-medication and called on them to go to the hospital if they feel unwell.
Ministry spokeswoman Or Vandine debunked the information posted and shared on three Facebook accounts about how to self-treat COVID-19 through the use of drugs and traditional medicine.
She called on people not to believe such fake news and said if there is any discomfort, people should go to the hospital for proper examination and treatment to avoid endangering their lives.
At the same time, Vandine asked the authorities to take legal action against those spreading such fake news.
In a bid to contain community transmission, the Governor of Phnom Penh Khuong Sreng ordered all 14 district governors and the authorities to strengthen preventive measures.
Sreng on Sunday evening called on the authorities as well as the people to suspend all large gatherings such as weddings, parties or religious events until December 16; limiting gathering to not more than 20 people and maintaining social distancing of at least 1.5 metres and get people directly or indirectly affected by the "November 28 community incident" to test for COVID-19 virus.
"Inspections and monitoring in restaurants, canteens and shops should also be increased. In case the owners of the business locations do not follow preventive measures, authorities will temporarily close their businesses," he said. Khmer Times