Srah Srang's remaining water expected to evaporate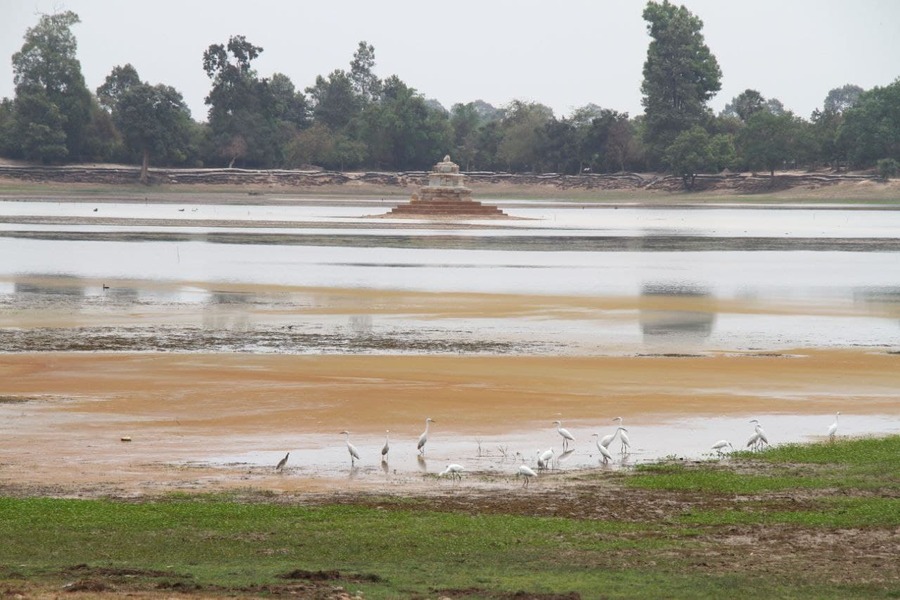 By the end of this dry season, Angkor's Srah Srang could be completely dry after repairs to an old temple located in the middle of the reservoir precluded adding water to the giant pond during last year's rainy season.
Long Kosal, Apsara Authority spokesman, said yesterday that it has not added any additional water to Srah Srang, or Royal Bath, while temple renovators hurry to complete repair work on the Srah Srang temple before the next rainy season begins.
Srah Srang is a baray (reservoir) at Angkor, located south of the East Baray and east of Banteay Kdei, in Siem Reap province.
Kosal said that as of Saturday, the water level in Srah Srang is at its lowest and the current heatwave will continue to evaporate the remaining water quickly.
He said that Srah Srang is likely to dry up by the end of the dry season this year.
"Srah Srang may be dry because last year we did not fill it up with water since we were repairing an old temple located in the middle of Srah Srang," Kosal told Khmer Times yesterday.
"When we do repairs, we cannot fill the water. If the reservoir is full, we cannot work. That is why in the current dry season, Srah Srang may dry up," he said.
"For this work, we cannot pump water to put in this pond because it is very big," he added.
Kosal said that Srah Srang is a rainwater catchment with no main canals to bring water in and this is the dry season anyway. There is no rain to source water for the reservoir.
He added that even if the pond dries up, it does not affect the environment or the stability of the temple.
"We do not have to worry, because usually during the dry season, the water in the pond is shallow at the bottom of the lake," said Kosal. "We do not want to dig deeper into the bottom of the pond."
According to Apsara Authority, Sras Srang was dug in the mid-10th century.
It serves as an irrigation system where locals living around Srah Srang can source water for daily living and to irrigate farmland. Khmer Times