Angkor preservation continues in preparation for future tourism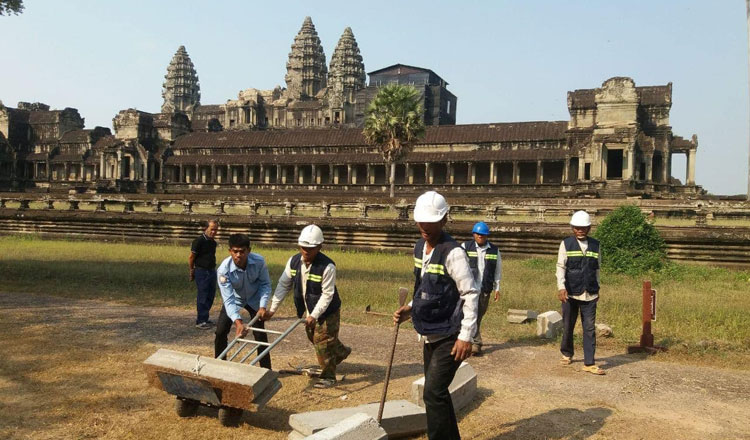 Preservation and protection projects for Angkor Archeological Park are continuing operations, despite the devastating impact the COVID-19 pandemic has had on the tourism sector in Cambodia.
Apsara Authority spokesman Long Kosal told Khmer Times that: "During the pandemic, we have been implementing our mission for protection and preservation of Angkor Archeological Park and other heritage".
The global and national outbreak of COVID-19 has made Angkor Archaeological Park very quiet, but preservation efforts remain ongoing, he said.
"The guests at Angkor Archaeological Park are few, but the preservation and protection work at Angkor is not quiet. Infrastructural improvement projects, gardening and planting and repairing ancient temples, for example, are being conducted regularly," he said.
Kosal said Apsara Authority has been working on projects including the rehabilitation project of the Terrace of the Elephants, Bay Ka'ek Temple, Siem Reap province.
Apsara Authority is also preparing to conduct other restoration projects at the Prum Kel Temple west of Angkor Wat, he added.
Angkor Archeological Park is one of the most important archaeological sites in South-East Asia, stretching over some 400 square kilometres, including a forested area. The park contains the magnificent remains of the different capitals of the Khmer Empire, from the 9th to the 15th century. They include the famous temple of Angkor Wat and, at Angkor Thom, the Bayon Temple with its countless sculptural decorations.
It is one of the largest archaeological sites in operation in the world. Tourism usually contributes massively to the economy there, but due to the COVID-19 pandemic, foreign visitors have dramatically decreased.
President of Siem Reap-based Cambodia Tourist Guide Association Pok Samnang said there is no tourism sector in Siem Reap now.
"Before the community outbreak on February 20 there were some local visitors in Siem Reap, but now, no more. In Angkor Archeological Park, there are only residents and some officials", he said.
Samnang said that before the pandemic, his association had a total of 500 members, with almost 400 registered in Siem Reap, but now they are gone.
"All have forgotten this job (tour guide) and started other jobs including real estate agents, and other jobs to survive", he said.
Angkor Enterprise, the state-owned institution in charge of Angkor income management said in the first two months of 2021, Angkor Archaeological Park in Siem Reap province received only 4,194 foreign tourists, earning $172,823, a decline of about 98 percent compared to the same period last year.
To attract inbound foreign tourists, Angkor Enterprise adjusted Angkor passes in line with the current slowdown of the tourism sector due to the COVID-19 global crisis.
Under the new policy, foreign tourists buying a one-day entrance ticket can visit the Angkor Archeological Park for two days, while the three-day pass will be increased to five days of visit and the seven-day pass to ten days of visit.
Moreover, it continued, the one-month entrance ticket will bevalid for two months; three-month pass, valid for six months; and six-month entrance ticket, valid for twelve months. Khmer Times