Schools in PP and Kandal closed over Feb 20 incident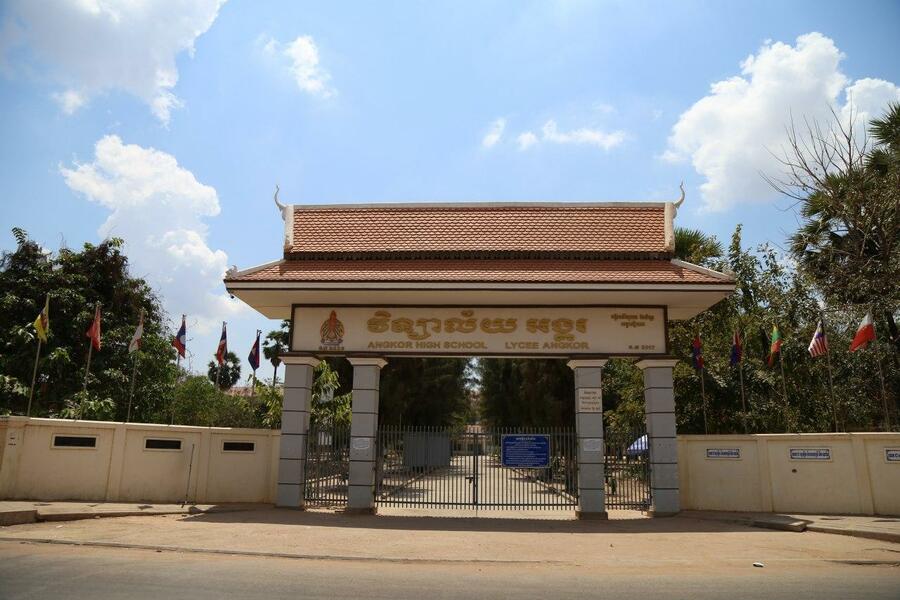 The Ministry of Education has ordered all public and private schools in Phnom Penh and Kandal province to be temporarily closed over the February 20 Community Incident.
In a statement issued last night, Minister of Education Hang Chuon Naron said the COVID-19 "February 20 Community Incident" is more serious and complicated compared to the "November 28 Community Incident".
In order to prevent COVID-19 infection in the schools and a larger one in the community, Naron said all public and private schools in the capital and Kandal province have been instructed to be closed for two weeks, with immediate effect.
He noted that all affected schools will hold classes online instead.
The instruction was made shortly after Prime Minister Hun Sen, through a voice message last night, ordered all private and public schools in Phnom Penh and Kandal province to close to curb the COVID-19 outbreak.
Some schools had been ordered closed earlier yesterday over fears that some of their students may have been in contact with people exposed to those who tested positive in the new community incident.
One of them, Phnom Penh Thmey High School had closed after a parent of one of the students at the school was linked to the latest community outbreak.
A teacher at the school, who requested anonymity, said its remote learning programme was quickly reinstated after the closure and he said the transition should be smoother this time around because of lessons learned from last year's school closures.
At that time, teachers and administrators were much less prepared and had to adapt to the new learning environment on the fly.
This year, the teacher said a variety of platforms will be used to streamline the experience, including splitting classes into separate Telegram groups and utilising Google Classroom. The teacher said the school would also use distance learning content provided by the government.
A switch back to online teaching could have negative impacts on students, however.
A study released last year by local Non-governmental Organisation (NGO) Save the Children showed that school closures had wide-ranging effects last year – from students not understanding their homework assignments to increased tension at home and negative effects on mental health.
The study polled 730 students and 730 caregivers from Pursat, Kampong Chnnang and Tboung Khmum provinces between June and July last year.
It found that 90 percent of the students and 87 percent of the caregivers reported that there was only a small amount of learning occurring at home.
The major obstacles reported by students were not understanding homework (40 percent), having too many household chores (36 percent), having no assistance available (21 percent) and having to attend to paid work (4 percent).
Two teachers at local schools who also wished to remain anonymous said they noticed more absences in their classrooms yesterday, an indication that some parents would prefer for their children to sit out the most recent community outbreak at home.
One of the teachers said, based on his experience last year, that remote learning was an ineffective way to teach children.
"Out of 30 students, I had maybe seven or eight who were consistently there and participating," he said.
"Children left to their own devices and in possession of a computer will normally just play games or watch YouTube," he added.
Save the Children's study highlighted another problem with online learning being safety. Protecting children from online evils such as bullying and online sexual abuse was something many caregivers weren't prepared for.
The survey found that only 26 percent of caregivers were aware of the risks of the internet and how to ensure their child's safety.
But while teaching remotely has its pitfalls, it's the only option at this point.
When asked if children could afford to miss even more school, the NGO Education Partnership (NEP) said: "Impacts from COVID-19 can be more detrimental and irreversible. We need to strictly follow all of the government's safety guidelines and protocols. Our Khmer saying is 'prevention is better than cure'."
But the NEP did say that they noticed a decline in students' abilities due to last year's closures.
In a statement sent via Telegram, the NGO said: "From our discussions with our members [NGOs and Civil Society Organisations] and other development partners it can be seen that the vast majority of students are not really ready for the new academic year."
The NEP said it is looking for methods to catch students up to speed in targeted areas.
Dr Mengly Quach, the owner of the American Intercon School (AIS) in Chak Angre commune which was shut as a result of the latest COVID-19 outbreak, said his school is prepared for online teaching, but others with smaller budgets may not be able to make the switch so easily.
"We are lucky that we have been very well prepared from day one. We've been using online for many years, so it's not new to us. We can implement it easily and successfully."
Some schools have even gone bankrupt or closed due to their inability to convert to remote learning, he said.
Aside from school closures, several more hotspots were added to the list of areas of concern related to the "February 20 Community Incident", bringing the total to 23.
An anonymous worker at Somet Hotel and Apartments – one of the hotspots – said the residents are currently undergoing a 14-day quarantine.
When asked what the World Health Organisation (WHO) would recommend to prevent the small-scale outbreak from growing, Dr Li Ailan, the WHO Representative to Cambodia said: "Cambodia's strategy continues to focus on multisource surveillance to detect, isolate, test and care for all cases, and trace and quarantine all contacts."
She added: "While having a local cluster is concerning, it is not surprising. The pandemic will not be over anywhere until it is over everywhere." Khmer Times