Ministry and Eurocham to collaborate on exports to EU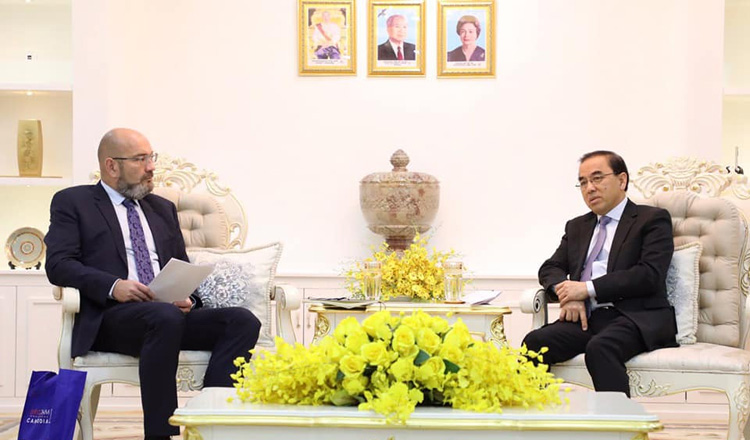 The Ministry of Agriculture, Forestry and Fisheries (MAFF) and the European Chamber of Commerce (EuroCham) in Cambodia have promised to collaborate on the development of the Kingdom's agriculture with a view to expanding exports to the EU market.
During the meeting between MAFF's Minister Veng Sakhon and EuroCham's Chairman Tassilo Brinzer yesterday, both parties highlighted their ongoing cooperation over the past years and EuroCham congratulated MAFF for its support measures for the agricultural sector during the COVID-19 pandemic.
Sakhon discussed points raised by EuroCham relating to the wider agribusiness sector, such as agro-industry special economic zones, international support programmes for agricultural improvement, levelling the business playing field in the sector, the Cambodia Inter-census Agriculture Survey 2019 and opportunities and challenges of Cambodia's free trade agreements.
The minister informed the EuroCham chairman about the progress of the agricultural sector in the context of the global spread of COVID-19. Cambodia has ensured its food security and has been promoting agricultural exports to international markets, especially China, the Republic of Korea and the European Union. He said that among those export products are milled rice, pepper, dried potato chips, processed cashew nuts, bananas, mango and mango syrup.
Sakhon noted that apart from milled rice, the volume of other agricultural exports to the EU seemed to be low.
Therefore, the Minister asked the new EuroCham chairman to consider helping the Kingdom bring more Cambodian agricultural products to the European market.
At the same time, the minister asked EuroCham to provide more cooperation on appropriate agricultural technical support to increase productivity, competitiveness, inclusiveness and climate change resiliency and especially in the area of infrastructure for the processing of animal and fish feed.
He also asked EuroCham to support investment in business and agricultural processing, harvesting, distribution and the increasing of added value through reducing the export of raw materials in favour of domestic processing.
"The Ministry is looking forward to continued collaboration with EuroCham in Cambodia in working together to create a positive investment atmosphere in the agriculture sector and make business in agriculture in Cambodia even better," Sakhon added.
EuroCham Chairman Brinzer said the main purpose of the meeting was to strengthen and expand the collaboration between EuroCham and MAFF and to make sure that both parties can jointly develop the agriculture sector in Cambodia.
He is optimistic that although Cambodia has been faced with the spread of the COVID-19 pandemic, the government of Cambodia, especially MAFF, has been putting a tremendous effort towards the development and sustaining of this sector However he also cited that the agriculture sector has already grown remarkably, ensuring the Kingdom's food security and pushing exports while others sectors have suffered crises.
"The European Union remains a key partner of Cambodia, especially MAFF, in boosting growth through contract farming and the introduction of new technology which aligns with market needs, expanding the processing of agriculture products and human resources training to ensure competitiveness in the context of climate change and inclusion," said Brinzer. Khmer Times