New project to pump fresh life into province's many rice fields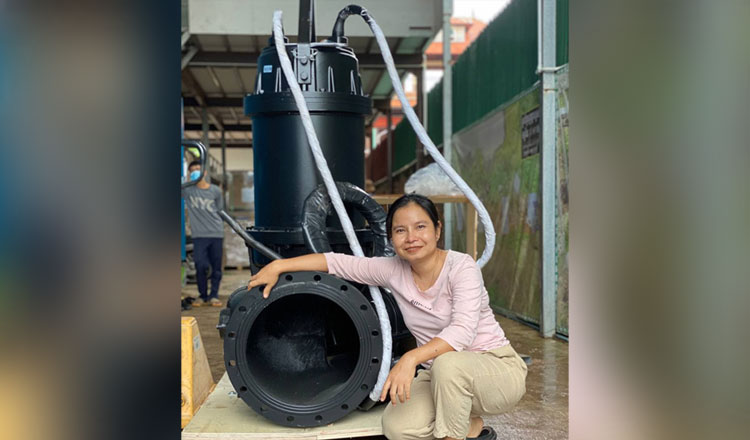 Netherlands Development Organisation Cambodia (SNV), an organisation that tailors solutions to address people's basic needs, is leading a project funded by Innovation Against Poverty (IAP) to install the first large hybrid solar water pump in the Kingdom. The pump will supply water to farms in Kampong Cham province.
The water station's previous pump required expensive diesel, broke down frequently and provided insufficient water. The new one is being constructed by Solar Green Energy Cambodia Co Ltd (SOGE) and is estimated to be finished by the end of March 2023.
The goal of the two-year project is to install a massive hybrid solar water pump that will pump enough water out of the river and into the main canals.
The new pump will be large enough to pump 120,000 litres of water a minute and require 280 kilowatts to function. It will be powered by a hybrid system whereby the pump primarily uses the solar power from its sun tracker but can be powered by the national grid when necessary.
The tracker system allows the solar panel, which creates electricity by using energy absorbed from the sun, to follow the sun's movements, allowing it to increase direct sunlight availability, allowing it to absorb considerably more power.
Kheav Thida, co-founder and chief executive officer of SOGE, said: "We trust in our technology with a sun tracker that can gain 40 to 50 percent more power than a normal rack – and we have more than 10 years of experience in the renewable sector, especially solar."
Thida added the entire project would not be possible without the support from IAP. Financial backup aside, IAP also supported
SOGE with consultancy to assist with planning for this project and put it in contact with other investors and partners.
IAP is a humanitarian group managed by SNV, funded by Sweden Sverige, the northern European country's Ministry for Enterprise and Innovation,
and collaborates with Dutch organisation Bopinc, that helps organisations to design and deliver commercially and socially viable business models, especially for poorer communities, and Inclusive Business Sweden, that works with the private sector to scale innovative and inclusive business models in developing markets.
The previous owner had a licence to sell water to the rice farmers by pumping water into a main canal with offshoots. When SOGE and IAP reached out to the ageing owner to collaborate on improving his pump, he decided to use it as an opportunity to sell instead. SOGE, now the new water provider for the farms in Kampong Cham province, can now fulfill its intentions to assist the area's farms with its solar energy technology.
SOGE is also part of the SWITCH to Solar project led by People In Need, an international humanitarian group, making it one of the most active solar technology suppliers for the projects to support Cambodia's agriculture development in the Tonle Sap region. Khmer Times