ACLEDA Securities Plc continues its winning streak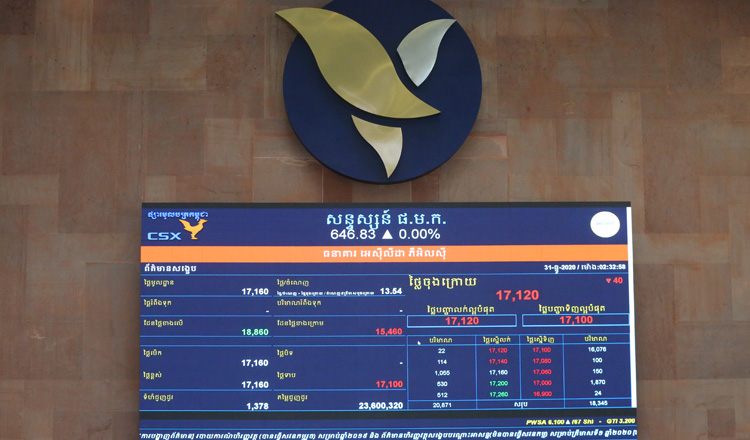 ACLEDA Securities Plc has been honoured as the nation's best securities brokerage during the fourth quarter of 2020 by the Cambodia Securities Exchange (CSX).
This is the fifth quarterly nod as best securities firm for ACLEDA Securites. It received the highest scores of the 10 securities brokerages based on a comprehensive review weighed on three criteria: the total trading value of a brokerages' investors, the number of new trading accounts and its usage of the exchange's Mobile Trading System (MTS).
In the fourth quarter of 2020, the firm's investors held 19.57 billion riels ($4.83million) in securities. This amount accounted for approximately 48 percent of the exchange's total securities' trading value.
Additionally, approximately 78 percent of new trading accounts opened during the quarter were held by ACLEDA Securities customers. The firm also placed 19.43 billion riels ($4.79 million) of trades through the MTS. New ACLEDA customer MTS accounts accounted for roughly 64 percent of those opened in the quarter.
CSX's Vice-Chairman Ha Jong-Weon said the quarterly best securities brokerage award programme acknowledges the securities brokerage company that best provided service in the intermediation of investors' trades.
The award winner receives a three-month placement of an advertisement video on the CSX LED screen. The award also includes the display of the best securities brokerage award poster on its homepage, the Phsar Hun website, the iCSX website and on the MTS system.
Last week, ACLEDA Securities was also selected as Cambodia's leading securities firm by the 2020 Global Banking & Finance Awards. That award honours companies that stand out in specific areas of expertise in the banking and finance industry.
ACLEDA Securities was awarded the title because of outstanding securities performance and achievements. The evaluation criteria includes scoring well in the growth of the number of trading accounts, trading volume over the last three years, investments in technology that provide enhanced digital solutions, providing comprehensive investor information and research and strong corporate governance and risk management.
ACLEDA Securities President and Chief Executive Officer Prom Visoth said that award was another great milestone and a great start to the New Year.
He said: "We would like to sincerely thank our investors and the public who use our services. This award is for you all. You're all aware of the Cambodia securities market and sector and its benefits as the choice for your investment and long-term capital needs. We are committing that the quality and convenience of our services will be our top priority for you all."