30-metre wide boulevard to be built in Phnom Penh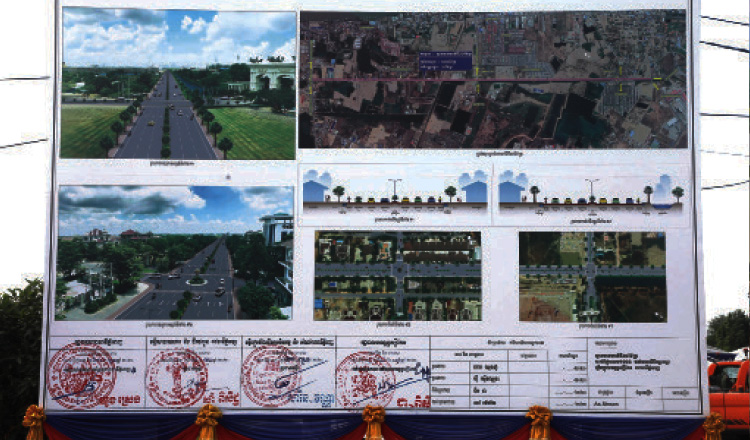 Phnom Penh Municipality announced yesterday the construction of a 30 metre wide and six-kilometre long boulevard in Russey Keo district will reduce traffic.
The road will be built parallel to Phnom Penh's main north canal, connecting Street 1003 to Win-Win Blvd. It will help ease traffic congestion in the north of the city.
Director of the Public Work and Transport Department, Sam Piseth, said that the concrete road will consist of a two-metre-wide central garden, two 12-metre wide roads, and two-metre pavements on each side. Each road will have three lanes for cars and one lane for motorbikes and will take six months to build.
Phnom Penh governor Khuong Sreng said that the new boulevard could reduce traffic in the northern part of Phnom Penh.
He said that the road will be built by a private company under the technical supervision of the Department of Public Works and Transport of Phnom Penh.
"Peace has brought sustainable development and encouraged people to cooperate and understand the impacts and disruption caused by construction," he said.
According to Chip Mong Land Ltd's Facebook page yesterday, the company is very proud to work the City Hall to build the new boulevard.
It said that the road will connect to the Camko City roundabout and the Prek Pnov bridge, passing through the Grand Phnom Penh City project. This road will also decrease the distance to local supermarkets for the projcet, such as Chip Mong Sen Sok, Aeon Mall Sen Sok, Macro Market, and Global House.
Chan Samoun, a resident of Russy Keo district, said that a 30-metre wide road will be very large for the city.
He said that in the area there are small roads and many traffic jams.
"When the road is constructed, it will be easier to travel around the area, and will benefit the local people and economy," he said.
In 2017, Prime Minister Hun Sen opened the 30-metre-wide and nearly 10-kilometres-long Hun Sen Blvd. It is one of Phnom Penh's largest and most important road connections, as it connects Street 271 in the north with National Road 2 in the south. Hun Sen Blvd is an integral part of Phnom Penh's 2035 Master Plan, which aims to improve resident's living conditions as the capital continues to expand and develop.
Credited: Khmer Times