ECCC dismisses Samphan's application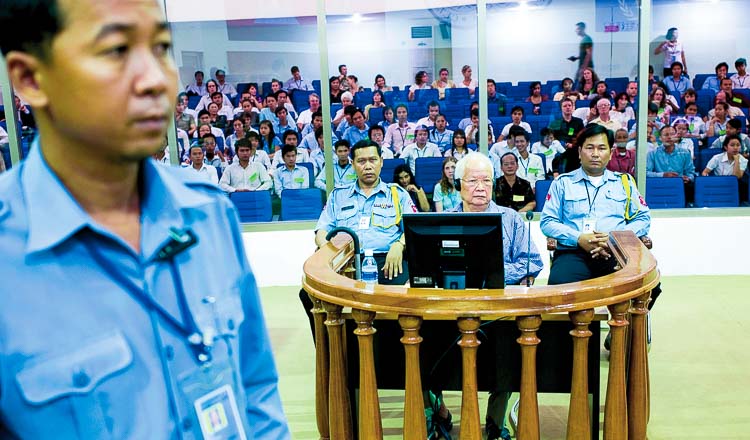 The Special Panel of the UN-backed Khmer Rouge Tribunal yesterday "unanimously dismissed" the former Khmer Rouge's top leader Khieu Samphan's application for disqualification of the six appeal judges who adjudicated in Case 002/01 over crimes against humanity.
Samphan is the former head of state of the Democratic Kampuchea regime. He, along with Nuon Chea, former Deputy Secretary of the Communist Party of Kampuchea (who died in August 2019) were found guilty of crimes against humanity and sentenced to life imprisonment in Case 002/01 which concluded in 2014.
The Extraordinary Chambers in the Courts of Cambodia also found them guilty of genocide in Case 002/02 and also sentenced them to life in prison in 2018. The two separate life sentences were then merged.
Samphan's co-lawyers on October 31 last year filed the application for disqualification and requested the Supreme Court Chamber to disqualify the six Appeal Judges who adjudicated in Case 002/01.
An ECCC statement said the Special Panel of ECCC yesterday issued its decision on Samphan's application.
It noted that on November 25, the Co-Prosecutors as well as the Civil Party Lead Co-Lawyers each filed their respective Responses to the Application for Disqualification and on December 17, the Judicial Administrative Committee "unanimously finalised" the composition of the Special Panel to adjudicate Samphan's application for disqualification.
In its decision yesterday, the Special Panel set forth the legal foundations governing the admissibility of an application for disqualification of a judge and unanimously found Samphan's application for disqualification "admissible".
It said that after reviewing all the criteria for disqualification, the Special Panel found out that all judgments of Case 002/02 and 002/01 of Appeal Judgment were impartial.
"Accordingly, the Special Panel unanimously dismissed the Application for Disqualification in its entirety," the statement said.
Neth Pheaktra, the tribunal's spokesman, said yesterday the decision of the Special Panel of the ECCC was final and could not be appealed. Khmer Times