Phnom Penh Noodle House Reopens in March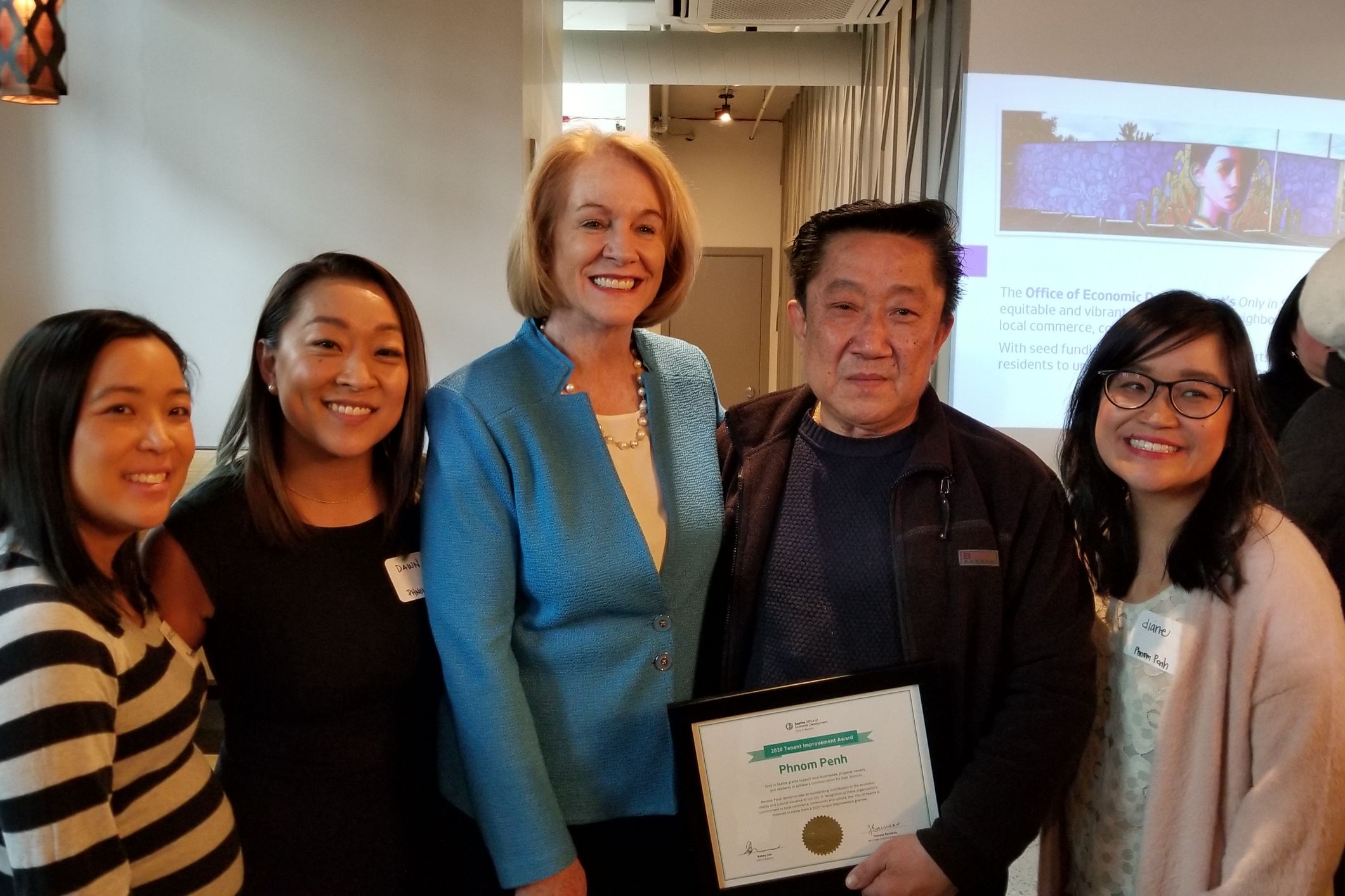 Beloved Cambodian restaurant Phnom Penh Noodle House is readying its much-anticipated revival this March in the International District two years after it closed, and it has some backing from the city. Seattle Mayor Jenny Durkan paid the still-in-the-works spot a visit Wednesday to publicize a $140,000 grant from the Office of Economic Development. It's called the Tenant Improvement Award and funds businesses that show "an outstanding contribution to the economic vitality and cultural vibrancy of the city." City council member Tammy Morales, OED director Bobby Lee, and other small business advocates were also on hand for the celebration. The restaurant recently announced March 14 for its reopening in the new Thai Binh building at 913 S. Jackson Street, and the grant money will be used to help finish up construction.
Owner Sam Ung — a Cambodian refugee who escaped the Khmer Rouge Killing Fields — opened Phnom Penh Noodle House in 1987, and it soon became part of the fabric of the International District. It was also a hub for the growing Cambodian population in the city, and many flocked to the restaurant for its namesake noodle soup, made with prawns, fish cakes, pork, and thin rice noodles. Ung passed the business on to his three daughters — Dawn, Diane, and Darlene — when he retired in 2013. They carried on their father's legacy, but in the fall of 2017, Dawn's son, Devin, was hit by a car and suffered a traumatic brain injury that impacted Dawn's finances and ability to manage the restaurant. In May 2018, Phnom Penh Noodle House closed to much dismay on S King Street.
But now the restaurant is looking at a brighter future. With the help of an Indiegogo campaign, plus community development organization Seattle Chinatown International District Preservation and Development Authority and this new grant, Ung's daughters are about to get the business going again. Diane tells Eater Seattle that the menu will be a "trimmed down version" from the original restaurant, although the popular noodle dish is staying on, as well offerings such as mee katang (wide rice noodles in gravy) and beef lok lac (wok-tossed marinated steak cubes). "We've kept all the favorites," she says.