'Reuse-ful' ways to solve Cambodia's waste problem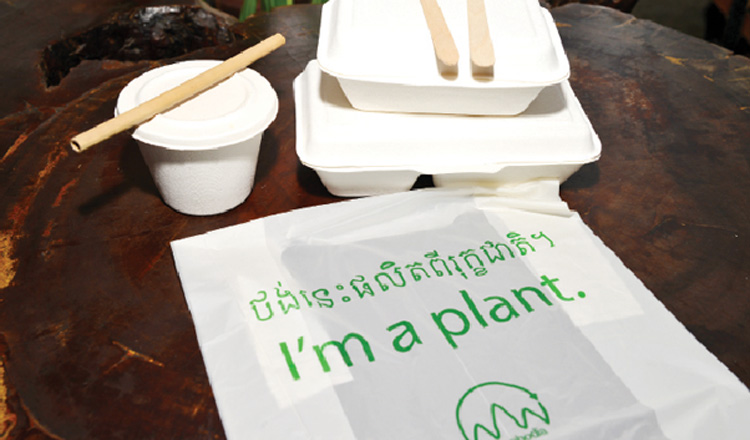 In 2018, Khmer Times reported a 10 percent increase per year in waste generated by the Kingdom. In 2019, Phnom Penh alone generated up to 3,000 tonnes of waste daily – with Cambodia as a whole producing over 10,000 tonnes – the equivalent to 3.6 million per year.
Ambitious waste management programmes such as in the National Environment Strategy and Action Plan 2016-2023 and the Phnom Penh waste strategy 2018-2035, talk a lot about improving governance, capacity and large scale investment on the promise of ensuring equally macro sustainable development goals.
However, results on the ground remain ambiguous, as top down development initiatives boast big impacts but sometimes lack relevance to the average consumer or small business.
Therefore, Khmer Times talks to locals, businesses, initiatives, NGOs and community action groups tackling the issues on the ground.
Changing demand
I started by visiting a proudly pro-recycling and plastic-minimal Eleven One Kitchen in Phnom Penh, to talk to 38-year-old owner Soklim Srun about how consumers and businesses can make a difference and was pleasantly surprised by a cardboard straw for my iced tea, along with the WiFi password being, of course, "SayNoToPlastic".
"I simply believe it is every business owners' responsibility to consume less and recycle more. Like a doctor taking care of a patient before receiving money, people should consider the planet before they conduct their business," Ms Srun says. "Initially, it was hard to get staff and suppliers on board but creating demand for biodegradable products is key, alongside education."
"To instill the importance of being green with our staff, we brought in experts from Plastic Free South East Asia show them the harm plastic is causing, which really changed their mind set. We also meet every month to discuss our eco objectives, it's important. Just like how I learned, it's about passing on the message to others, now they too have become agents for change," she adds.
Ms Srun says that anything they can't recycle themselves, they leave to street pickers, separating their waste to give every opportunity for it to be reused.
"We also have plans in the future to recycle more of our waste. We have a farm and although it's use has been temporarily suspended by the virus pandemic, we will later resume sending our food waste there to be used as chicken feed or compost, to create a more circular business model," she said.
The roots of the issue
Compost City founder Monorom Tchaw is a woman well versed in the field of organic matter.
She says: "Waste in Cambodia is predominantly organic, accounting for nearly 70 percent of Phnom Penh's if you include compostable materials use such as paper and cardboard. Repurposing and recycling is just as important to deal with our waste as reducing consumption. Therefore, by producing compost, households are potentially reducing their individual waste production by 70 percent."
"It also produces several benefits, as people use their compost to start growing plants when they didn't before, share it with friends to use and even get friends on board to do composting themselves. It's a ripple affect which reduces waste," Ms Tchaw says.
However, she said that for her it's more than just a business.
"For someone who was born in a city, I know how disconnected city living can become from nature and the soil. You don't see the direct impact of wastefulness," Ms Tchaw adds.
Education
Ms Tchaw says: "As Compost City grows, I would love to take part in more of the education side of things, to get people to reconnect with the soil and its significance to humanity. Processes such as composting teach people about circular approaches to consumption and moving away from linear models which exacerbate waste problems."
Ms Srun concurs, saying: "Education is important but the type of education is key. In schools at the moment, they just say 'don't use plastic, plastic is bad', yet they don't present a solution and also contradictorily, use it themselves."
In 2019 the Southeast Asia Globe reported: "Despite fervently stressing the importance of the three 'R's' – reduce, reuse, recycle – through partnerships with the Ministry of Education in order to "clean the minds" of the next generation, government or sub-level provincial government investment in recycling is negligible."
This has left initiatives such as the Coconut School in Kampong Speu province to fill the void. A unique project, not only is its campus itself built using recycled glass and materials, but it runs programmes such as "Trash to Tuition", which aims to give children in rural areas of Cambodia access to education classes in English, computer skills and recycling.
On recycling, the school states it " teaches children about recycling, cleaning up the community, breaking the cycle of burning garbage that leads to the depletion of the ozone layer, and reducing the contamination of drinking water caused by garbage buried in landfills."
However, Ms Srun says education should be conducted not just at school level.
"Currently, there are still misconceptions among Khmer adults regarding their consumption and waste. For instance, some people think plastic is cleaner. You use it once and throw away. People also look down on products made from sugarcane, bamboo and cardboard."
"Some business owners either don't care, or don't think it's financially worth being environmentally conscious. What does that say to employers when setting an example? Green living has to be ingrained into people's lifestyle."
Green life
Environmental engineer turned eco-business savant, Irina Chakraborty, came to Cambodia nine years ago and alongside her environmentally conscious businesses runs Facebook group, Phnom Penh Minimalist and Freecycle, which is primarily to request or donate items within Phnom Penh.
"I came across freecycling in the US and wanted to set up a group here," she said.
"Places like Phnom Penh especially, have a high turnover of people, meaning lots of stuff being left behind. This group is a way to keep that in circulation with an eco and community benefit. It's also helped people in need during the pandemic," she said.
"I've also seen a rise in borrowing within the group, which is great! Not every home on a street needs a ladder for instance, or a screwdriver, people borrow between themselves using the group. It's a win-win," she added.
Indeed, as Cambodians embrace the internet, it is becoming an incredibly powerful tool for change, evidenced by Think Plastic, a social media campaign raising awareness about plastic pollution which has nearly 97,000 followers on social media and has produced over 80 videos on how people can make a difference in their everyday lives.
The award-winning creator of the campaign, At Sotheavy, as reported by Khmer Times on Tuesday, said she hopes the award will both demonstrate the ability of an effective media campaign and remind local businesses of their plastic consumption policies and attitude.
One man's trash…
In a different sector completely, the growing trend in vintage fashion, spurred by social media apps such as Instagram, where influencers flaunt their unique retro pieces, has created an appetite for the eco-fashion look.
The growing presence of second hand and vintage shops in Cambodia such as Don Don Down and Sakura Toto are also evidence of the growing value in reused clothing.
The vintage market has also birthed a fashion upcycling boom, with international designers and global brands jumping on the bandwagon as the next generation looks to make an eco statement.
Good Krama is one such example of a company making upcycled clothing from a combination of traditional Khmer fabrics and garment factory excess, something the Kingdom is definitely not short on.
Equally, it's not just clothing. Siem Reap based ReHash Trash, is a social enterprise turning plastic waste into bespoke artworks in a truly individual approach to recycling.
The initiative has also grown a business around the process, as it became a tourist attraction in its own right offering customers the chance to view the work being made. Not only does this have direct environmental benefits as well as create unique artistic pieces, it also funds the work of its parent NGO in helping former street children and their families, who in turn can be employed and earn income in the project.
Re-think
In fact, there are many more green-fingered operations in the Kingdom that one article could not begin to cover. However, they are all linked by one common understanding, awareness is not enough.
Whether it be through the impending draft laws on plastic, developing eco incentives for businesses or people power, in the face of climate change and growing trash, the opportunity to pursue a greener future cannot be wasted.
Credited: Khmer Times