Acleda bank IPO: 'Exceptionally high investor numbers'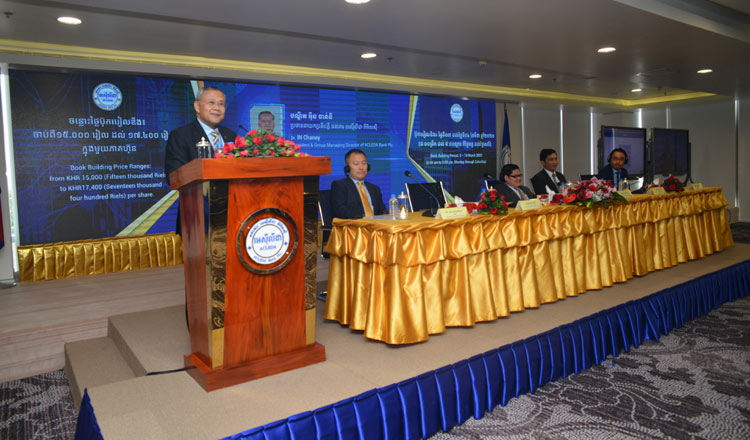 Following an "exceptionally high" number of investors signing up ahead of ACLEDA Bank's readying to float on the Cambodian Stock Exchange (CSX), the financial institution has announced via a statement released earlier this week that it will extend the next phase of the process, known as the subscription period, to counteract the economic disruption caused by COVID-19.
Originally set for between March 23 and April 3, the closing stage of the process, which will see the bank become the first in the country to be listed on the CSX, will have a further three weeks added, ending on April 24 instead.
"Taking the recent government actions to contain the COVID-19 pandemic into consideration, ACLEDA Bank has decided to extend the subscription period for the safety and convenience of public investors, as well as offering alternative online applications via the ACLEDA website and ACLEDA securities website," the statement said.
Also in the statement, the bank said that the initial book-building period, completed on March 14, was "oversubscribed three times over", and with some 2,180 investors, 95.6 percent local and the remainder foreign, signing up, the initial public offering (IPO) price has been set at $4.05 per share.
However, ACLEDA, aided by Yuanta Securities (Cambodia) Plc as lead manager, says that its plan to be listed by May 4 remains unchanged.
Dr. In Channy, president and group managing director of ACLEDA, told Khmer Times that everything is going as planned. As well as online, subscriptions will be sold
at counters at several of ACLEDA Bank branches, including Phnom Penh, Siem Reap, Battambang, Kampong Cham, Kampot, and Banteay Meanchey. Other selling agents include Yuanta Securities (Cambodia) Plc, SBI Royal Securities Plc, RHB Indochina Securities Plc, Campu Securities Plc, Phnom Penh Securities Plc, and Cana Securities Ltd.
Commenting, Sou Socheat, general director of the Securities and Exchange Commission of Cambodia (SECC), told Khmer Times that he is confident that the listing will go ahead as planned.
"However, a company is only allowed to extend its period of subscription for up to six months," he said.
He added that the current difficult economic landscape will not deter "real investors".
"Waiting is not the way of working for serious investors. They will see a good opportunity despite the hardship of the current situation," he said.
According to ACLEDA Bank's Disclosure Document, if the subscription closing date does need to be delayed, the financial institution will notify the public via both Khmer and English newspapers.
Credited: Khmer Times