Coronavirus Pandemic Prove Catastrophic for Tour Guides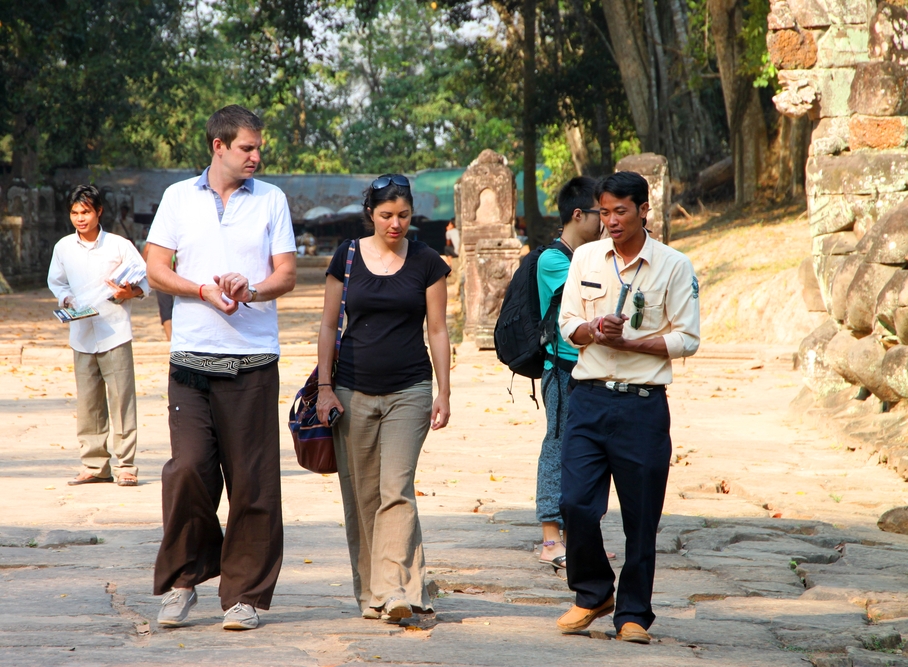 The tourism industry has always been considered as a major player in the rapid economic growth of the Kingdom. However, in the first quarter of 2020, the typically booming industry was abruptly brought to its knees due to COVID-19.
In efforts to contain the spread of the coronavirus, countries worldwide issued travel bans and lockdowns prohibiting the entry of visitors and enforcing home quarantines to the citizens.
While the restrictions have put a damper on plans of excited travelers, their impact on the individuals whose source of income heavily relies on tourists has been even more devastating.
With the Kingdom closing tourist destinations, such as museums, royal palaces, and other attractions, and restricting entry or transit of visitors into the country, tour guides join the long list of workers who have been heavily hit by the pandemic.
A freelance guide in Siem Reap province, Buth Socheatna voiced his concerns regarding the decline of tourists in the region. "My source of income comes entirely from the touring services I provide. However, in the past few months, I have had trouble finding even one client," said Mr. Socheatna who is the breadwinner in his family.
"Without my daily income, I'm really worried about how I'm going to pay my rent and bills as head of the family," said the tour guide who has been at his job for over 10 years.
According to the government, there has been a 60 percent decrease in tourist arrivals since February, owing to fear and anxiety brought by the COVID-19. The figure bears a stark contrast to the projections made by the Tourism Ministry last year where Cambodia was expected to host about seven million tourists this year – two million of whom were expected to come from mainland China.
Ticket sales at the renowned Angkor temple of Siem Reap have fallen between 30 and 40 percent this year.
"The plummet in the number of tourists has led to major losses for my livelihood. I no longer have clients. My wife's souvenir shop has also seen a great loss in customers," said Keo Raksamey, another tour guide in Siem Reap province.
Tour guide Seour Odom said: "We're not like employers with stable jobs who receive their income monthly. As long as they do their jobs, they don't have to worry about their wages that much. It's different from us. Without tourists, we cannot earn or do anything."
For guides like Mr. Odom, as the containment of the coronavirus remains uncertain, the future of the tourism industry and their livelihood hang in the balance.