Government officially launches the Siem Reap Tourism Master Plan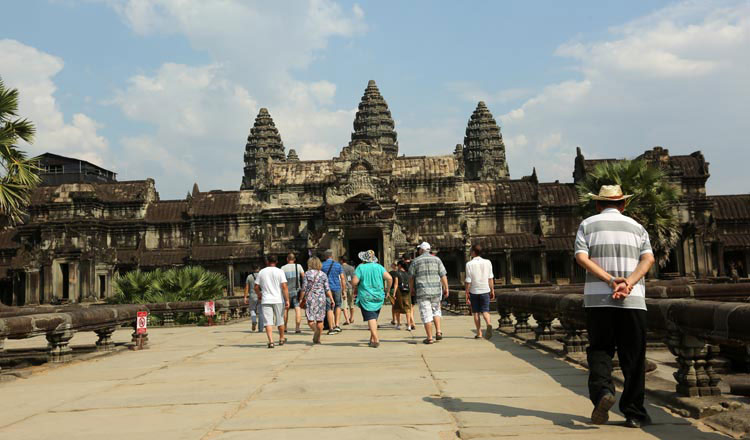 Siem Reap is gearing up for the return of international visitors with the Tourism Master Plan. The government officially launched the plan yesterday in a ceremony presided over by Deputy Prime Minister and Minister of Economy and Finance Aun Pornmoniroth.
The plan runs from this year through to 2035 with the aim of turning Siem Reap city and the surrounding area into a quality destination focusing on higher spending tourists while minimising any negative impact of large numbers of visitors to the world famous Angkor Wat temple complex.
Prime Minister Hun Sen signed the document in March. The official announcement comes after the government cut quarantine from 14 to seven days for most fully-vaccinated arrivals and announced it would start issuing three-month electronic visas to tourists again.
"Besides the famous Angkor Wat and many other ancient temples that cover an area of 401 square kilometres, which was inscribed on the UNESCO's World Heritage List in 1992, Siem Reap also has many valuable resources such as the Phnom Kulen National Park, the ancestral sacred land and the former capital of the Khmer Empire, and the Tonle Sap Lake region, with its rich biodiversity and rare resources," Mr Hun Sen said. "Siem Reap city also has been transforming into a modern heritage city with the growth of tourism establishments such as hotels, restaurants and shops, whereas the surrounding area is embedded in the traditions that continue to be adhered to in local daily life with the warm smiles of Khmer people."
Tourists are starting to trickle back after the local government ended a two-week lockdown in parts of Siem Reap city. Angkor Wat welcomed more than 30,000 domestic tourists over this month's three-day Pchum Ben holiday.
The government wants to develop the city and the province, while protecting Angkor Wat by taking two basic approaches: the sustainable management of tangible and intangible heritage assets with outstanding value and responsible and inclusive development taking local socio- economic benefits into consideration.
The prime minister says master plan has three stated goals, as follows. "Siem Reap will become an attractive international tourist destination with global recognition of cultural heritage and natural resource conservation and protection, offering a vast variety of tourism assets and attractions. To ensure maximum socio-economic benefits from tourism, the historical Angkor heritage site, the city with the Siem Reap river, the Tonle Sap Lake region, Phnom Kulen National Park and rural tourist destinations must be linked to local economic development and poverty alleviation. Siem Reap must be a quality tourist destination, attracting tourists to visit again and again, as well as attracting up-market tourists to increase incomes to local people and inclusively promote the local economy."
The local tourism industry has been devastated by the Coronavirus pandemic. About 41 percent of international tourists chose Siem Reap as their destination between 2015 and 2018. By 2020 the market share had dropped to 30 percent. Last year Siem Reap received about 400,000 international tourists, down 82 percent compared with 2019, and approximately 700,000 domestic tourists, down 66 percent.
Passenger traffic at Siem Reap International Airport fell 99.94 percent in the first nine months of this year compared with January to September 2020 and there were no passengers last month. With no tourists, hotels, bars and restaurants have been forced out of business. There are now an estimated 90 percent fewer hotel rooms available than in 2019. The master plan aims to encourage tourists to stay longer in Siem Reap than the average two to three days. Infrastructure development is already under way with a $150 million budget to build 38 roads and plans to renovate nine kilometres of the Siem Reap River in the city to make it more attractive.
Construction of a new international airport is under way, able to accommodate more than 20 million passengers every year once the final phase has been completed, compared with the 5 million passenger capacity currently existing. The government estimates that under the master plan and other initiatives to attract "alternative" and "high quality" tourists, Siem Reap could receive around 10.9 million domestic and 7.5 million international tourists by 2035. Tourism is vital to Cambodia's economic recovery. In 2019 it contributed more than 12 percent of GDP, generating more than $4.9 billion in revenue and creating 630,000 direct jobs. Tourists spent about $1.2 billion in Siem Reap alone ,contributing to the creation of 248,000 jobs. Khmer Times