Kep International Half Marathon is Back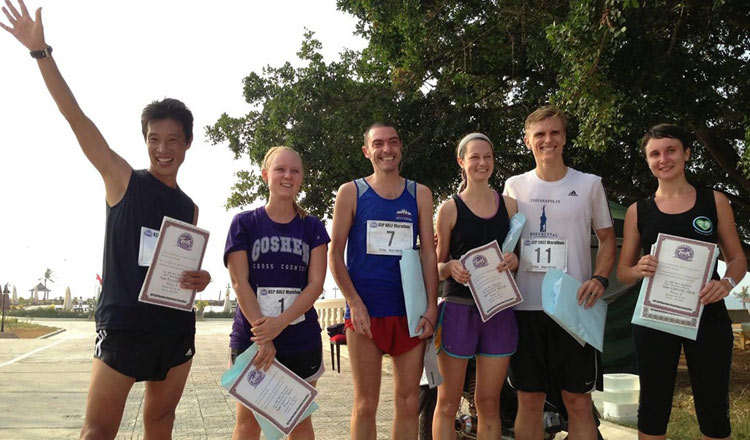 The Kep International Half Marathon is back on the scene after a four-year absence.
The first edition of the event was held in 2015, followed by another one a year later. But a lack of participants prompted a temporary suspension from 2017-2019.
Juergen Wittstock, CEO of Running in Cambodia (runningincambodia.org), said this year's edition of Kep International Half Marathon will push through as scheduled in the coastal province.
"We will hold it this coming Sunday (Feb 23)," he said. "This year's event will be much bigger than in previous years."
Wittstock, who is based in Saitama, is also the CEO of Oeconex, a company that organizes marathons and other races in different parts of Japan.
A veteran of many international running competitions (including placing 7th overall in last year's Angkor Wat International Half Marathon), he comes to Cambodia on occasion to organize races and related activities. Wittstock was among the organizers of the recently-held 3rd Battambang Bamboo Road race.
The 3rd Kep International Half Marathon is a collaboration between Running in Cambodia and Delight Cooperation Japan.
Wittstock said they are expecting more than a hundred competitors will take part this time. Aside from the locals, the organizers are also expecting participants from Japan, the United Kingdom, Australia, France, and other countries.
"We are also expecting more than a hundred school children will join us," he noted.
According to Wittstock, there was also a contingent of Japanese runners from Vietnam that was keen to join the race. "Unfortunately, because of coronavirus scare, they will not be able to come," he explained.
There will be three categories for the race: 5k, 10k and half-marathon. It is open to both male and female participants. There will be cash prizes for the top three winners in the half-marathon.
The route of the race will take runners around the Kep National Park, one of the most popular attractions in the area.
Wittstock said they will hold the event not only for fun but also to promote a healthy lifestyle. "This will be both for recreation and good health," he said.
Wittstock said the race will also be held with a focus on environmental protection.
"We always made it a point that these activities (races) are environmentally friendly. We want to raise awareness about environmental protection, trying to do anything in a sustainable way," he said.
Part of the proceeds from the race, according to Wittstock, will be donated to a marine conservation group in Kep.
Half marathons and other running competitions are increasing in popularity in this Kingdom of 16 million people. The Angkor Wat International Half Marathon, Phnom Penh Half Marathon, Sihanoukville International Half Marathon, Anlong Veng Historic Walk and Angkor Ultra Trail are among the major running competitions held every year in Cambodia.