Preah Theat: Two Temples, One Unforgettable Experience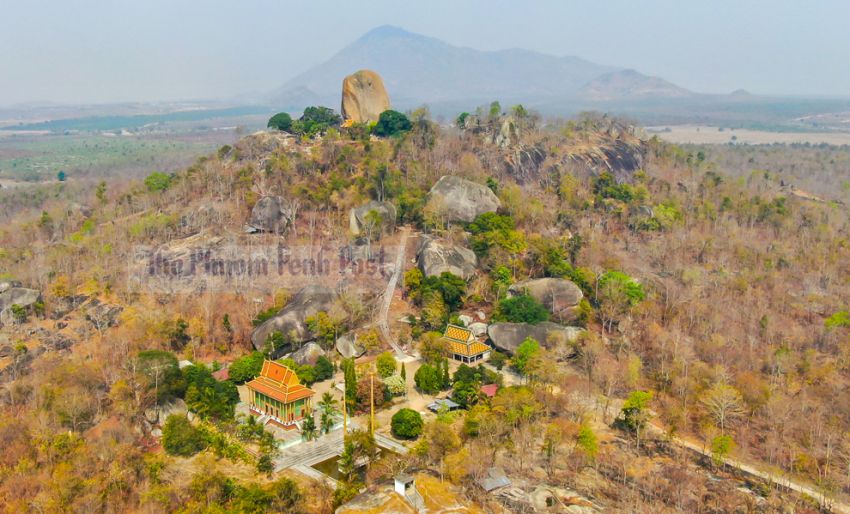 A mountain emerges on the horizon on our way to Kampong Chhnang's Amleang commune. Its sinuous shape does not escape the eye. Neither does the giant rock that sits on the top. We are almost there, at the famous Preah Theat Mountain.
An important centre of religious devotion in the region, the mountain attracts worshippers from around the country. It is also a renowned tourism site, offering the traveller tranquillity and stunning views.
Preah Theat Mountain is home to two pagodas that are lost amid dense vegetation and boulders – the Preah Theat Kroum (the lower pagoda) and Preah Theat Leu (the upper pagoda).
People visit each one for different reasons, but all enjoy the beautiful landscape that opens up before them as they sit under a mango tree.
Bowing before a shrine holding incense sticks on her hand, Chheum Ratha, 34, prays for happiness and success in business.
"When I was poor, I came here to pray that I had the money to buy a Honda Dream 2014 motorcycle. Believe it or not, not long after, I won the lottery and bought the bike.
"After that, I kept returning here to ask for success in my business ventures. Now we have our own business and can even afford to own a new car. On my husband's salary alone, that would not be possible. He is a policeman and earns only 300,000 to one million riel a month. It is not enough," she says.
Kampong Chhnang Department of Culture and Fine Arts director Sok Theouk says Preah Theat is both Hindu and Buddhist, as Cambodians used to practice Hinduism but are now Buddhists.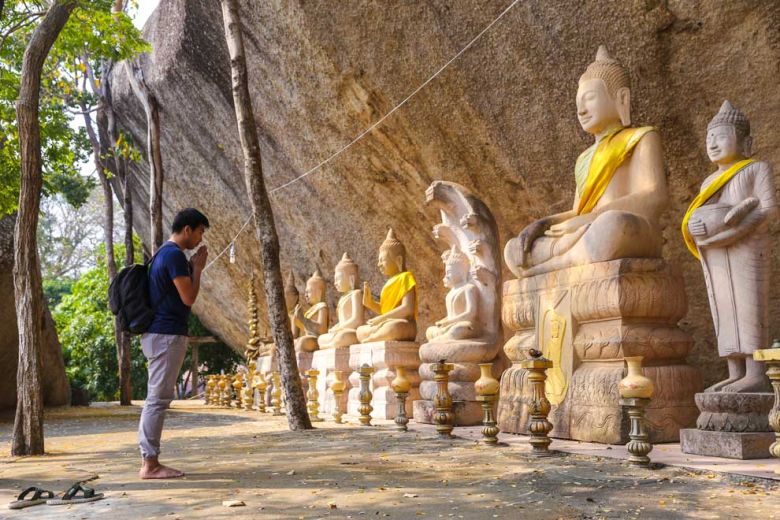 "Our beliefs stem from Hinduism. When people make offerings to a shrine, it is sometimes considered just superstition. However, Preah Theat and other Hindu temples in the country are considered sacred places of worship," Theouk says.
Under the shadow of a large mango tree, Mok Nhean, 76, takes a break from farm work to sweep the temple's garden. He says the temples here are much more than places of worship – they regale the weary traveller with a breathtaking view dominated by the giant rock that crowns the mountain.
"In fact, there used to be two giant rocks at the top. The western one broke in two halves," says Nhean.
Growing between the two halves of the rock is a big mango tree that Nhean believes is over one hundred years old.
"The tree has been here, as tall as today, since I was a child. I don't know if it grew naturally or if someone planted it. There are three ancient mango trees in this garden," says Nhean, who has seen five different chief monks come and go.
Theouk says most temples and shrines at Preah Theat were built during the 8th or 9th century. The magnificent rock at the top has always been there, he says.
"It is an amazing natural phenomenon. Unfortunately, research on Preah Theat has not revealed much about the rock. Research has mostly focused on how Buddhism entered the country and how the temple was built," says Theouk.
Preah Theat Leu, the upper pagoda, was built in 2009 in an area covered by Mimosa pigra – listed as one of the world's 100 worst invasive plant species that forms dense, thorny, impenetrable thickets, particularly in wet areas.
Entering from the eastern side, the visitor first encounters Preah Theat Kroum (the lower pagoda), a dining hall, a temple, several shrines, and concrete steps that lead to the mountain top.
Kampong Chhnang's Department of Tourism director Seng Saly says both pagodas are important centres of worship and tourism.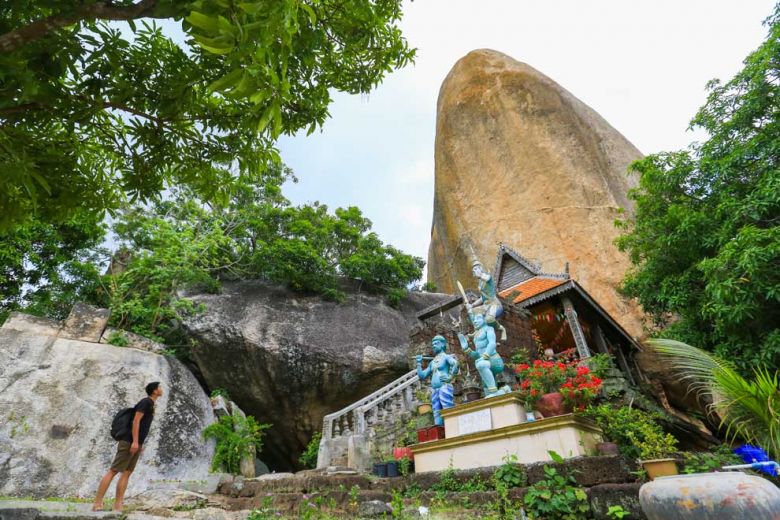 "The mountain is both a tourism resort and a religious site. People come here to generate good karma or to enjoy themselves during a holiday like Pchum Ben or Khmer New Year. There is no entrance or parking fee," says Saly.
In Preah Theat Kroum, people pray to Preah Mer Srey Krumleak or 'The Most Disciplined Woman', a local saint.
"The legend says that she was a very hardworking and disciplined woman who lived in this mountain and made clothes with her loom," says Meas Savun, 55, a priest and the caretaker of the pagoda since it was built.
"Preah Mer Srey Krumleak was beautiful, hardworking, and very talented. For a long time, people from every corner of the country came here to pray to her.
"Because their wishes were granted, they did what they promised. They built this pagoda," Savun says, noting that some relics of this woman remain, including remnants of her loom.
Preah Theat Mountain changes with the seasons. During the rainy season, the mountain is covered by lush vegetation. In the dry season, everything takes on a golden hue, and the trees shed their leaves.
Preah Theat Mountain resort is located in Samaki Meanchey district's Chrokkov village, about 90km from Phnom Penh and 82km from Kampong Chhnang town.
Phnom Penh Post