Govt focussing on social spending, plans to return to pre-Covid growth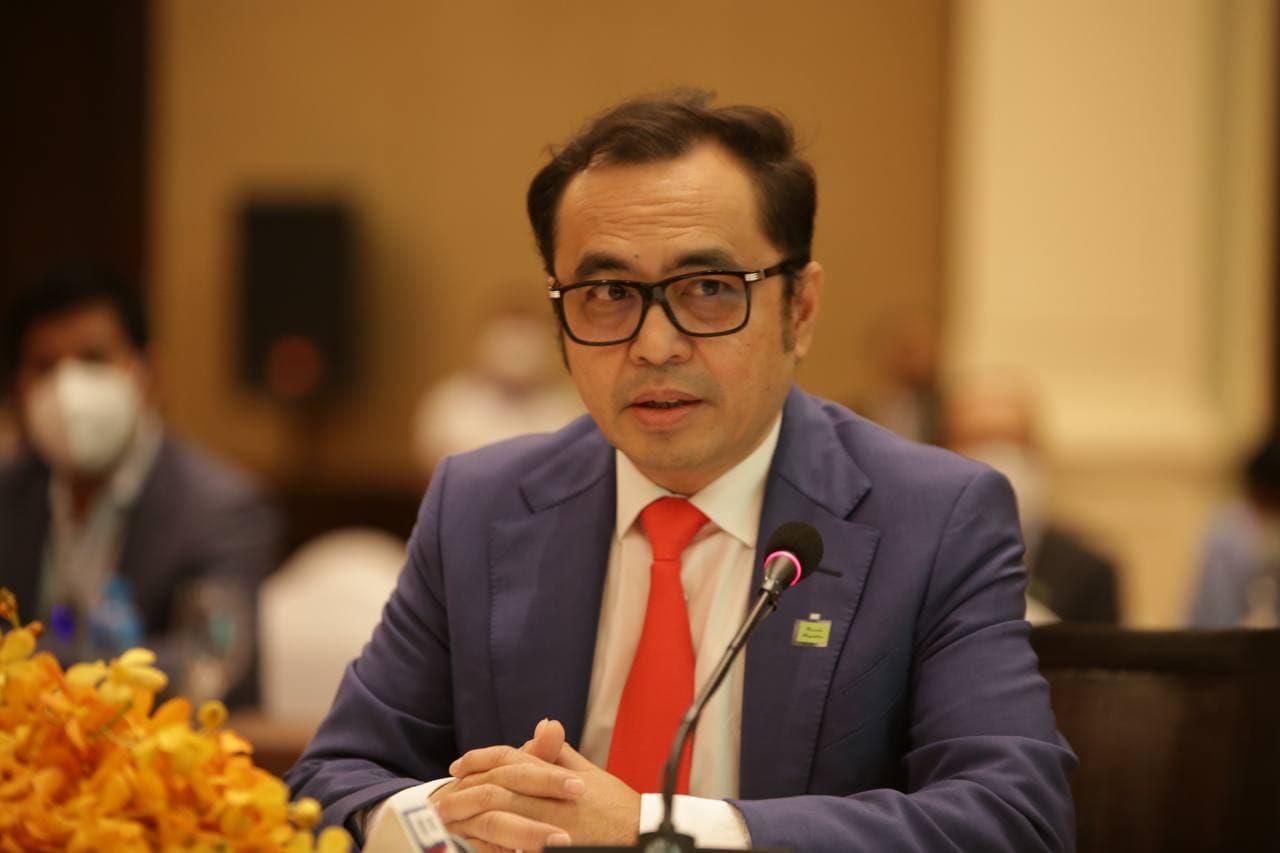 This year's national budget will focus on measures to help the economy recover from the economic and social impact of the Coronavirus pandemic and boost new sectors to end an overreliance on garment exports and tourism revenue, according to officials from the Ministry of Economy and Finance.
The government will continue to help low-income families and struggling industries. It will also speed up the diversification of the economy through investing in new technology and spending on education and training to meet a skills gap.
The ministry holds a public forum every year with the aim of informing and encouraging discussion with relevant stakeholders and increasing transparency. This year's event was held both physically and online due to concerns about a resurgence in Coronavirus infections.
"We are not fully safe in combatting Covid despite our success in vaccination," said Vongsey Vissoth, Minister attached to the Prime Minister and Permanent Secretary of State at the Ministry of Economy and Finance. "This is what we call the new normal. We need to adapt to the situation. The economic recovery is still fragile because Covid has not yet come to an end."
A lot of factors weigh in Cambodia's favour, Vissoth said. A successful vaccination campaign has allowed social and economic reopening. Cambodia is also stronger than other developing countries because it is a member of the Association of Southeast-Asian Nations, he said.
"We have a special situation. ASEAN countries have the tendency to recover like rich countries, both in Covid management, which was very well done, and also with the restoration of their economies. Cambodia, as a poor country in ASEAN, is doing well," Vissoth said, adding that the ministry forecasts a return to Cambodia's pre-Covid levels of economic growth of 7 percent by 2024 from an estimated 5.6 percent this year.
There are still several factors that could slow the economy's recovery. Although the impact of Omicron has not been as severe as the Delta variant, Vissoth said Covid could still disrupt domestic spending while global supply chain disruptions could hurt exporters. Inflation poses a risk due to rising petroleum and food prices. There is also a labour mismatch, with wages rising due to worker shortages in growth sectors. Finally, geopolitical risk could hurt growth, with fears of a Russian invasion of Ukraine provoking a standoff with the US and its allies, and US-China tensions continuing to impact global trade flows and making investors jittery.
More detail on the macroeconomic situation was given by Chheang Vanarith, Director -General of the ministry's General Department of Policy. He said the agriculture sector is benefiting from rising global demand and higher prices and is forecast to grow 1.3 percent this year, after 1.1 percent growth last year. The garment industry is performing even better due to a combination of recovering global consumer spending and a shift of manufacturing from Vietnam and Myanmar to Cambodia. It grew 8 percent last year and is forecast to rise to 8.1 percent this year.
Non-garment manufacturers are also increasing exports due to demand for high value-added products such as solar panels. Vanarith said the new investment law and free trade agreements will help exports increase this year. He forecast 12.2 percent growth, cooling from a 13.8 percent expansion in 2021.
While the construction sector was weak last year due to low levels of foreign investment, it will improve this year, growing 5.4 percent from 1.4 percent growth in 2021, he said.
Tourism has also been hit hard but will gradually recover with the government expecting 1 million foreign visitors this year, from 200,000 in 2021, along will 10 million domestic travellers. The hotel and restaurant sector will grow 12 percent this year, expanding to 22 percent growth in 2023.
As for the government's revenue raising and spending plans, the ministry's Director of the Department of Budget Formulation, Lay Sokkheang, said the ministry aims to achieve five key strategic goals:
To combat and mitigate the effects of the pandemic.
To implement the government's Strategic Framework and Programmes for Economic Recovery in the Context of Living with Covid-19 in the New Normal 2021-23.
To ensure macroeconomic and financial stability.
To continue the sustainability of state operations and the continuity of key reforms.
To promote democracy through funding this year's commune elections and pay for Cambodia's regional obligations as chair of ASEAN by funding the leaders' summit and relevant meetings.
Customs and excise will contribute 47 percent to total revenue, tax 44 percent and non-fiscal revenue 9 percent. The government plans to borrow $300 million through issuing its first sovereign bond and receive $1.6 billion from development partners.
"Borrowing won't increase and cause a heavy debt crisis to Cambodia," Sokkheang reassured the forum. The Finance Ministry is also putting pressure on all government departments to cut costs and leaving civil servants' salaries unchanged this year.
Social spending will take the lion's share of government expenditure this year, he said.
"The social sector has been considered as the first priority at 38.4 percent focussing on continuing to fight Covid-19, improving the quality of and access to health, implementing worker training, supporting the education sector and social protection."
Defence, security and public order spending receive the second largest share of government spending, at 24.5 percent, with 10 percent allocated to general administration and 7.6 percent on the economy.
"The 2022 budget is an effective tool to help the government respond to all risks both domestic and foreign. To continue the fight against Covid and build capacity to live in the new normal, protect lives, maintain the socioeconomic balance and livelihoods of people and align resources to sustain economic growth," Sokkheang said. Khmer Times