Cambodia and Japan hold high-level talks to explore investment opportunities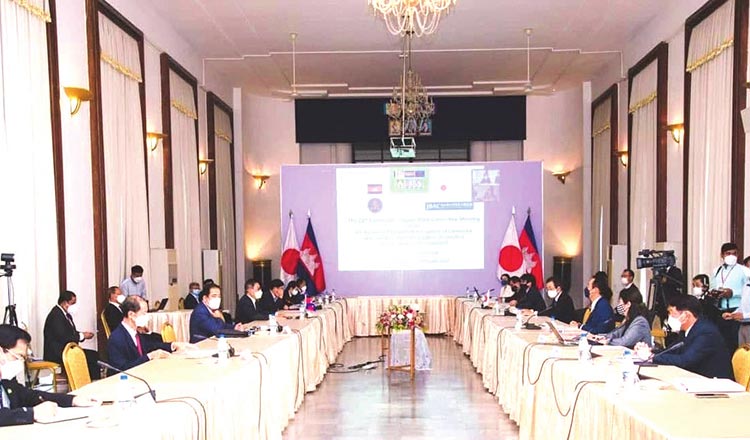 In a major thrust to broaden the investment and business environment in Cambodia, a top bilateral level ministerial and business delegation from both Japan and Cambodia held a meeting early this month at the Council for the Development of Cambodia to open new vistas for Japanese investors to invest in the Kingdom.
The 23rd Meeting of the Cambodia-Japan Joint Committee was attended by Sok Chenda Sophea, Minister Delegate to the Prime Minister, Secretary-General of the Council Development of Cambodia and Masahiro Mikami, Ambassador Extraordinary and Plenipotentiary of Japan to Cambodia along with leaders and representatives of concerned ministries and institutions, Japan International Cooperation Agency (JICA), Japan External Trade Organization (JETRO), Japan Business Association of Cambodia (JBAC), and representatives of Japanese companies operating in the Kingdom.
The meeting, a part of the Investment Conservation Mechanism, has been established since 2009 under the framework of the agreement between Cambodia and Japan on the liberalisation, promotion and protection of investment, signed by Prime Minister Hun Sen and former Japanese Prime Minister Shinzo Abe on June 14, 2007.
During the spirited discussion, efforts were made to iron out vexed issues so that it would be easier for more Japanese investors to invest in the Kingdom.
Investment and business environment in Cambodia was at the top of the agenda. The meeting provided an opportunity for Japanese investors to see through the ample opportunities and valid suggestions were made to the Cambodian government to make it more investor-friendly.
Among the topics that came up for discussion include payment of seniority benefits, withholding tax on salary and value added tax refund, logistics (speeding up operations at the Thai-Vietnamese border), reducing electricity fee and power outages) and importing cars by unauthorised persons.
In his opening remarks, Sophea made it a point to pay his condolences on the passing away of Koji Kanzaki, a Japanese citizen who spent 38 years in strengthening ties between Japan and Cambodia and helped build schools, hospitals and physical infrastructure here,
Further, Sophea went on to add that better relations were cemented through the meeting between the leaders of the two countries through several rounds of telephone conversations between the Prime Minister and Prime Minister of Japan on December 1, last year followed by meeting between H.E. Hun Manet and Japanese leaders during a visit to Japan.
He thanked the Japanese investors for their continued trust in the government of Cambodia.
Sophea also highlighted the new Investment Law in Cambodia that was recently approved and promulgated in October last year, which has become a strong legal basis of Cambodia to attract investment and promote economic recovery after the Covid-19 crisis.
On his part, Ambassador Mikami expressed his gratitude to all ministries and institutions for their efforts in coordinating with the Japanese investors.
He highlighted the need to continue cooperation between Cambodian government institutions and Japanese investors to achieve success in business and investment activities in the Kingdom.
He hoped continued cooperation with the government of Cambodia in promoting and attracting direct investment from Japan to Cambodia towards the economic progress and prosperity of both countries.
It may be recalled that in January, the Council for the Development of Cambodia welcomed and registered 147 investment projects of Japanese companies with a total investment capital of approximately $2.9 billion. Khmer Times