UK Backs Cambodia as ASEAN Chair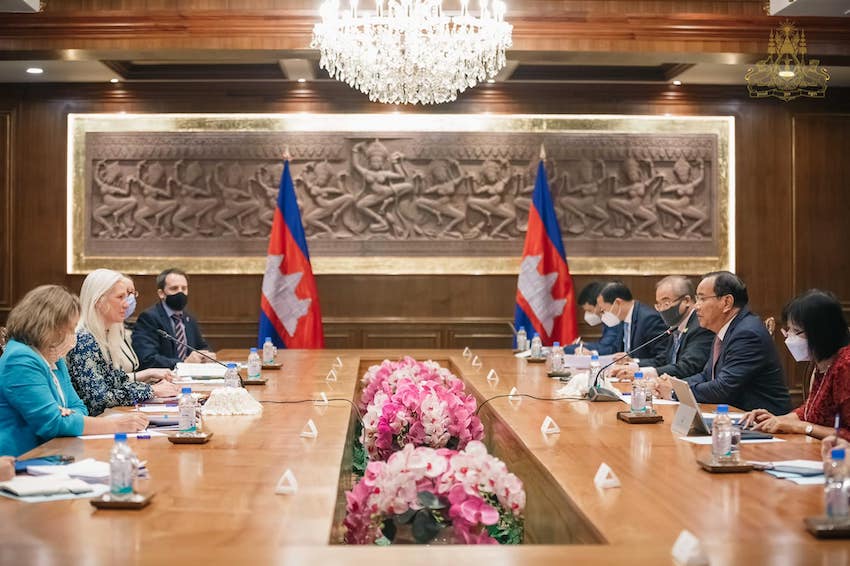 The UK Minister for Asia expressed the country's strong commitment to supporting Cambodia as ASEAN Chair for 2022.
During her two-day visit to Cambodia, UK Minister Amanda Milling, expressed intentions to further strengthen bilateral relations between Cambodia and the UK, as well as strengthen ASEAN-UK cooperation.
This was expressed during the Minister's meeting with Deputy Prime Minister Prak Sokhon on January 11.
During the meeting, DPM Sokhon briefed Minister Milling on Cambodia's priorities as ASEAN Chair for 2022 in response to the ongoing strategic challenges in the region, including effective control of the Covid-19 pandemic and a sustainable rehabilitation process. Included in the agenda are management of geopolitical competition, issues that are traditional and non-traditional, and strengthening ASEAN's cohesiveness, centrality and resilience.
DPM Sokhon also informed Minister Milling of the development of the situation in Myanmar during the Prime Minister's visit to Myanmar on January 7 to January 8. He stressed that Cambodia's only desire is to help Myanmar return to normalcy, end the violence, achieve long-term peace and national unity.
Minister Miller thanked Cambodia for its strong support of the UK in becoming an ASEAN dialogue partner. Khmer Times