Vietnam Airlines Resumes Cambodia Route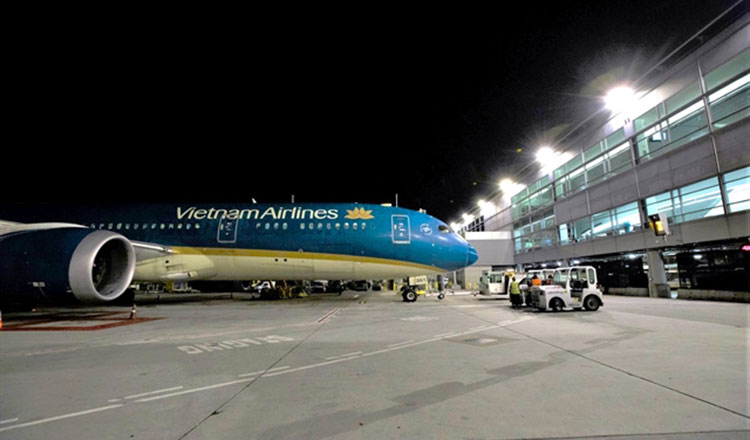 Vietnam Airlines has resumed commercial services after a break of nearly two years, with direct flights between Phnom Penh and Ho Chi Minh City. The first flight left Phnom Penh International Airport at 17:40pm on Saturday, arriving just over an hour later at Tan Son Nhat Airport. There were 121 passengers on board flight VN852.
The airline plans to expand the service from Tuesdays, Wednesdays, Thursdays and Saturdays to daily flights, with one-way prices from Vietnam starting at $110. The return flight, VN853 leaves Phnom Penh at 15:45pm, arriving 55 minutes later.
The resumption of international air travel comes after Vietnam's government approved new safety measures with the aim of attracting foreign tourists and allowing citizens living abroad to return for the Lunar New Year, which begins on February 1.
A Vietnam Airlines spokesperson said the inaugural flight restored a bridge with the world, raising the prospects of a strong recovery in the aviation and tourism sectors.
"Everyone rejoices at the relaunching of Vietnam Airlines services after a long 20-month hiatus," said Norinda Khek, spokesman for Cambodia Airports, which operates this country's three international airports. "It contributes to restore passenger confidence in air travel, provide more travel options and to address pent-up demand."
Foreign visitors to Vietnam plunged 79 percent to 3.83 million in 2020, compared with a record 18 million in 2019. Cambodia received only 1.31 million foreign tourists in 2020, down 80 percent from 2019.
Vietnam Airlines will resume flights to and from Japan tomorrow and flights to the United States on Sunday as part of a two-step plan that aims to see flights between the Vietnam and 15 countries and territories in the first half of this year if other nations give their consent. Other planned phase-one destinations include South Korea, Taiwan, Singapore, Thailand and Laos. In phase two Vietnam plans to add routes to the UK, France, Germany, Russia, Australia, Hong Kong and Malaysia.
The plan may change depending on the course of the Coronavirus pandemic.
Passengers need to be fully vaccinated or have recovered from Coronavirus and provide a negative PCR test. The airline's safety measures include spraying aircraft with disinfectant and simplifying services to limit contact between passengers, crew and airport staff.
Vietnam's daily infection rate is 15,909, which is 14 percent below the peak reached on December 22, according to the Reuters Coronavirus Tracker.
Vietnam grounded all international commercial flights in March 2020, except for special services repatriating its nationals or carrying foreign experts, investors and skilled workers.
Some 16 airlines are flying scheduled international routes to and from Phnom Penh including Malaysia Airlines, Bangkok Airways and local carriers Cambodia Airlines and Lan Mei Airlines. Singapore Airlines restarted direct flights to Siem Reap on December 17. Two airlines are flying international routes to Sihanoukville.
Passenger traffic at Cambodia's three international airports in Phnom Penh, Siem Reap and Sihanoukville fell 81.3 percent in 2020 compared with the previous year. In the first 11 months of 2021 it dropped 89.6 percent compared with the same period in 2020. The first 11 months of 2021 saw 97.9 percent fewer passengers than the same period in 2019. Khmer Times