More than 400 bankers graduate from local and international certifications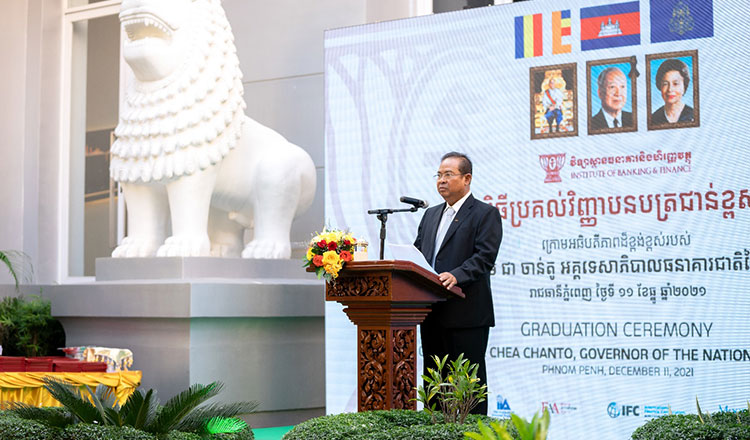 The Institute of Banking and Finance (IBF) celebrated the graduation of more than 412 finance professionals in an event attended by National Bank of Cambodia's (NBC) Governor, Chea Chanto, Association of Banks in Cambodia's (ABC) Chairman, In Channy and Chairman of the Cambodia Microfinance Association (CMA), Kea Borann. The event took place at the Sosoro Museum in Phnom Penh, which is Cambodia's museum of economy and money.
The ABC set up the IBF in 2004 with assistance from the Mekong Private Sector Development Facility, the Asian Development Bank and the ASEAN Bankers' Association, with the support of the NBC. It was established to train ABC and CMA members from Cambodia's commercial banks, specialized banks, and microfinance institutions to international standards but at affordable prices.
The institute is supported by a voluntary board of directors who represent the full range of the Cambodian finance industry, with members from the NBC, Maybank, Vattanac Bank, CIMB Bank, CAMMA Microfinance, AMK Microfinance, Westline Education Group and the Cambodia Microfinance Association. The institute's vision is to build sustainable finance through capacity building.
It has four stated goals: to improve corporate governance, to raise local standards in line with international best practices, to standardize banking practices and to educate the public about sustainable financing.
It offers internationally-recognised courses in areas including but not limited to compliance, corporate governance, credit, human resources, internal audit, IT, risk, trade finance and treasury along with local courses in compliance and credit as well as e-learning courses.
The IBF's certification aims to give banking and finance industry staff work skills and teach them local and international best practices as well as the latest developments in the field of banking and finance.
"Participants of programmes organised through the IBF benefit from IBF's status as an industry-wide education body, which allows the institute to leverage on behalf of the industry to work with international professional providers in making sure that the education quality offered to the Cambodian banking and finance sector is of the same quality as other countries who use the same providers," said IBF General Manager Chea Kagnarith.
Some 40 percent of the graduates studied for between four and 12 months, using a curriculum developed by international organisations, including Moody's Analytics from the US, the London Institute of Banking and Finance, the US-based International Finance Corporation, Britain's International Compliance Association, the British Standards Institute, Singapore's ICC Academy and the Frankfurt School of Finance and Management. The international organisations partnered with regional banking institutes, allowing the local banking industry to receive the same curriculum, trainers, and certifications as other countries. Khmer Times