Thailand and Cambodia discuss combined digital development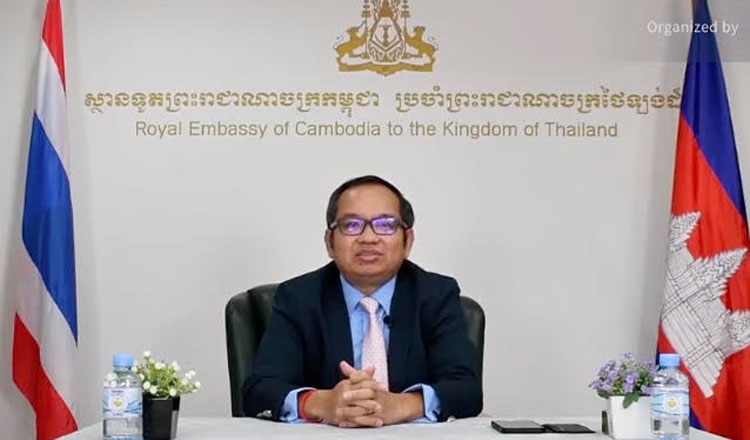 Government representatives from Phnom Penh and Bangkok have been talking technology and looking for ways to improve digital infrastructure and promote e-commerce between the two countries.
The Cambodian Embassy in Thailand organised the video conference, with government officials, the Asian Development Bank (ADB) and tech-company bosses.
The meeting came two days after Cambodia's king signed a royal decree to form a National Digital Economic and Social Council with the aim of boosting economic growth through technology, while protecting the government, companies and individuals from fraud and hacking.
"The rise of the digital economy presents strong potential growth, new business models seeking applications [apps], proliferating the world and Asia," said Hideaki Iwasaki, country director of the ADB Resident Mission to Thailand. "These are very enormous opportunities and this digital transformation contributes to the growth of output in the region."
ADB research showed that two years ago digital apps generated $1.8 trillion in Asia, contributing more than 6 percent to the size of the region's combined economies. E-commerce accounted for more than half of the revenue, followed by digital travel, which generated $376 million in Asia.
Cambodia wants to take advantage of this regional digital revenue by increasing e-commerce with neighbours such as Thailand.
"Between Cambodia and Thailand it's important that we try to find routes for collaboration in terms of digital sectors," said Kong Marry, undersecretary of state at the Ministry of Economy and Finance and the chairman of the Techo Startup Center, a government-funded school for digital economy entrepreneurs.
He recommended the two countries focus on a few points to grow their digital trade.
"One would be to develop and maintain an open dialogue," he said. "It's important that we talk to those stakeholders in kinds of digital technology development. In addition, capacity development programmes between the two countries."
Thailand is playing its part. The Senior Executive Vice-President at the Kingdom's Digital Economy Promotion Agency Kasititorn Pooparadai told the meeting about the country's plans to expand broadband, which has already reached 75,000 villages but is still lacking in some remote areas. She also said Thailand wants undersea cables to provide faster connectivity across Asia. More importantly, she said, Thailand wants to nurture talent to create local e-commerce giants.
"E-commerce has been growing quite fast, especially through the pandemic, but we also have the problem of capitalising this kind of e-commerce as well as the digital platform that has been mainly influenced by the tech giants of other countries, so what we have to do is not only to make sure the market grows but also to make sure that this will benefit the local industry and the local sellers as well," Kasititorn said.
Thai initiatives include training more students to write computer code and establishing a smart visa to attract the world's best tech brains to the country.
In Cambodia, Kong Marry's Techo Startup Center aims to take on talented entrepreneurs and turn their ideas into successful businesses. Cambodia has also started building a National Incubation Center to teach the Kingdom's tech talent how to turn their cyber dreams into money-spinning reality. Khmer Times