Cathay Pacific to resume flights to Cambodia after 16-month hiatus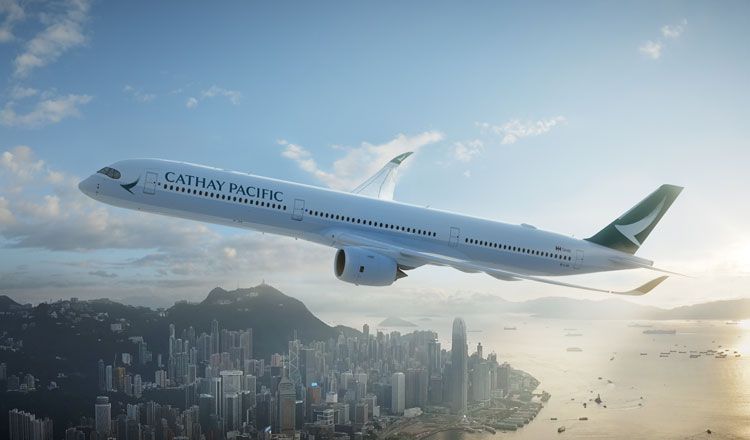 Cathay Pacific Airways Ltd – Hong Kong's flagship carrier and one of the world's largest airlines – will operate three inbound and outbound flights between Phnom Penh and the former British dependent territory on July 30, Aug 13 and Aug 27.
The pandemic has proved to be the most turbulent period in the industry's history and now with domestic travel – at least in the US – returning to near pre-pandemic levels, long-haul flights remain highly dependent on global vaccination efforts and synchronous travel restrictions being lifted, according to Hamish Snow, Cathay Pacific's country manager for Cambodia.
"Covid-19 has impacted the aviation industry severely, cutting out all but essential travel. We know that people want to fly again, see the world and visit friends and relatives," said Snow.
"In many parts of the world domestic travel is less restricted. Cathay Pacific is based out of Hong Kong and therefore relies on international travel," he added.
The return of Cathay Pacific flights also marks the first time the company will land in Phnom Penh under its namesake branding Previously, Cathay Dragon – its regional carrier – serviced Cambodia before it was absorbed in March 2020.
The three flights come as international carriers have missed out on successive peak travel periods and are ahead of students studying abroad returning to school.
Snow said the flights are indicative of "Cathay Pacific investing in the Cambodian market" but stressed that passenger demand and travel restrictions will be critical factors as the company schedules future flights.
In May, Cathay Pacific raised $650 million in its first bond offering in 25 years but, like many other airlines, has subsisted through the pandemic by relying on cargo transport.
Air cargo rose by 9.4 percent over 2019, according to most recent figures by the International Air Transport Association. Cathay Pacific Cargo accounts for some 25 percent of its annual revenue, according to the company.
The firm is currently in the process of converting two additional Boeing 777 passenger aircrafts into freightliners by removing seats from its Economy Class cabins, which will bring the airline's Pacific's cargo fleet to six aircraft.
The financial benefit from cargo may extend beyond shipping goods to buyers. As of April, the carrier transported more than 15 million doses of vaccines across the globe while also flying personal protective and other medical equipment free to Southeast Asia, Mexico and India.
Snow said the initiatives are as much a humanitarian gesture as they are an investment in Cathay Pacific's business.
Cathay Pacific – flying as Cathay Dragon– first touched down in Cambodia on Feb 1, 1993, and was one of the first airlines to operate from and to Cambodia.
"Seeing the restart of services between Hong Kong and Phnom Penh lifts our spirits in this challenging situation and may bode well for more traffic at the airport by year-end," said Alain Brun, chief executive officer for Cambodia Airports.
Passengers flying out of Phnom Penh must show a negative Covid-19 test prior to leaving the country. Everyone transiting from Hong Kong must depart within 24 hours upon arrival. Cambodia is currently classified under "Group B" as a "High Risk Place".
Travellers to Hong Kong who are not, or only partially, vaccinated have to spend 21 nights in quarantine under the travel restrictions. Fully vaccinated individuals will spend 14 nights in quarantine. Individuals who are fully vaccinated with proof of antibodies from a recognised laboratory in Hong Kong only have to spend seven nights in quarantine. Those travelling directly to the territory will have to undergo mandatory Covid-19 testing before clearing immigration and must be Hong Kong residents or hold student or work visas. Khmer Times