Vaccination in Red Zones Has Reached 80 Percent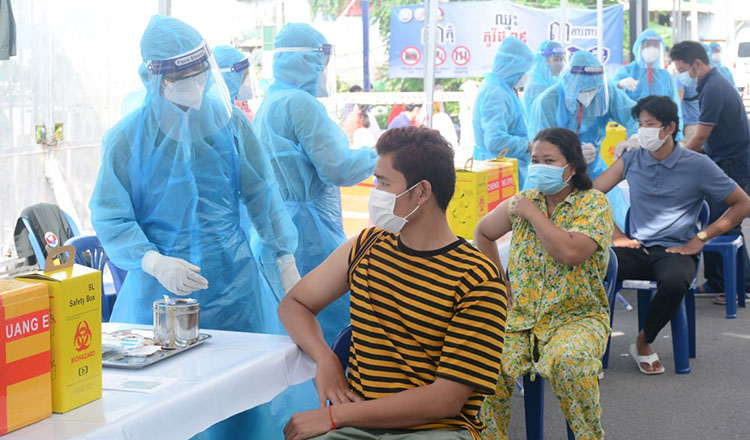 General Ith Sarath, Deputy Commander-in-Chief of the Royal Cambodian Armed Forces and Chairman of the Vaccination Team in the Red Zone, has said that the administration of the first dose of Covid-19 vaccines in the Red Zone in Phnom Penh has reached about 80 percent and expected to be wrapped by May 13. The second dose is expected to begin on May 15.
Prime Minister Hun Sen, had issued an order to the Vaccination Team of the Ministry of National Defense to launch a vaccination campaign in the Red Zones in six districts, including: Kampoul, Dangkor, Por Senchey, Meanchey, Toul Kork and Russey Keo on May 1.
The vaccination process in the Red Zones, caried out by the army, has been rapid, with around 50,000 people being vaccinated daily.
General Sarath, pointed out that some districts, such as Kambol and Dangkor, had already been vaccinated and only a few remained. Separately, in Po Sen Chey and Meanchey districts, some communes, which are the gathering areas of factories and gathering places for workers, are not ready yet for vaccination.
According to General Sarath, the communes where the factories and workers were gathered were Sangkat Stung Meanchey 1, Sangkat Stung Meanchey II of Khan Meanchey and Sangkat Choam Chao I and Choam Chao II of Por Sen Chey.
In order to vaccinate the workers in these four communes in time, General Ith Sarath has mobilised 12 vaccination teams from other areas. He added that there are five large factories in these areas with up to 95,000 workers.
"We take the forces from other communes and we will increase the personnel the Red Zone areas in Sangkat Choam Chao 1 and Sangkat Choam Chao 2, Khan Por Sen Chey and Sangkat Stung Meanchey 1 and Sangkat Stung Meanchey 2, Khan Meanchey." .
The director of the Ministry of National Defense's Red Vaccination Operation, confirmed that administration of the second dose will proceed as planned on May 15. Although the second dose is given, the first dose for those who have not been injected will continue.
According to data collated, a total of 798,461 people were to be vaccinated in the red zones in the six districts but this has now increased to nearly 100,000.