One year on from the first COVID-19 case in Cambodia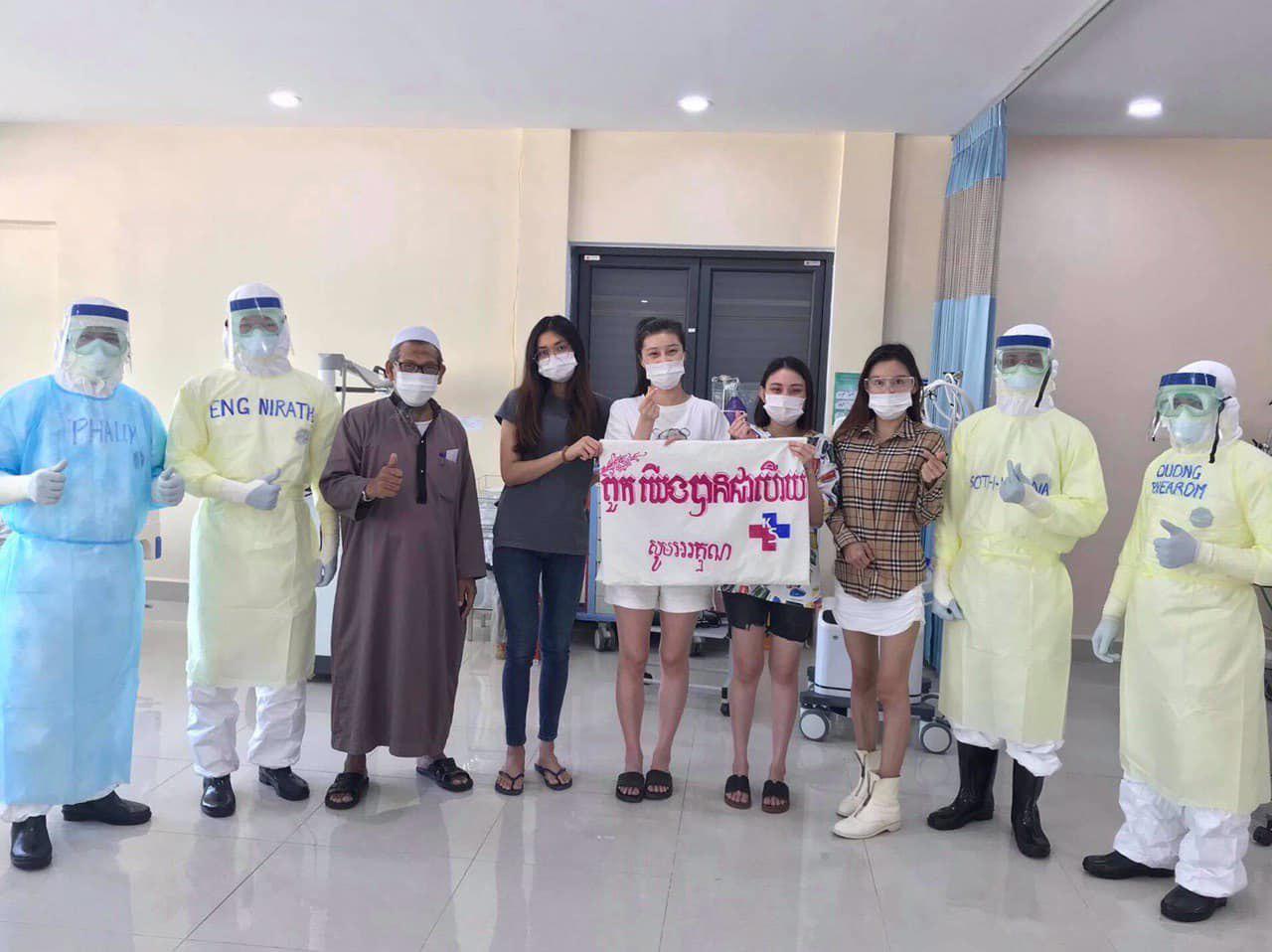 It was exactly a year ago, when the coronavirus crept into Cambodia via a 60-year old man in Preah Sihanouk province who returned on a direct flight from Wuhan, China, on January 23 with three family members.
Thinking it was just a normal flu with him running a fever and having a runny nose, he went to Preah Sihanouk Provincial Hospital on January 26 for some routine tests. Little did he know that on January 27 he would be identified as Cambodia's first positive case of COVID-19.
On March 7, the second case was detected from a 38-year-old Cambodian taxi driver in Siem Reap province. He was among four people placed under quarantine at Siem Reap Provincial Referral Hospital whom all had come into direct contact with a Japanese man who had left Cambodia on February 3, and tested positive upon arrival in his country.
The third case was reported by the Ministry of Health on March 10, a 65-year-old British woman in Kampong Cham province. She was a passenger of Viking Cruise Journey coming from Ho Chi Minh City, Vietnam, together with four other British passengers. This was the country's first cluster case, as eight passengers were infected and tested positive between March 10 and 24, by which time Cambodia's COVID-19 cases had risen to 91.
Around this time, when the case number was still low, an imported community cluster broke out when almost 100 Cambodians returned from a religious ceremony in Malaysia. Positive cases started popping up in Tboung Khmum, Kampot, Koh Kong and other provinces.
There were 11 Malaysians who had also attended the same event in Malaysia who tested positive in Cambodia as well.
The second cluster case was the French tour group who landed in Sihanoukville after crisscrossing the country from Siem Reap to Battambang province, finally stopping off at the coastal city where close to 30 of them had been infected, along with their local tour guide and drivers.
A total of 31 French nationals all tested positive for COVID-19 over the weekend, who had all been travelling together since they arrived in Siem Reap province on March 11.
Additional cases were recorded in the Kingdom from two Indonesians who fled Thailand to get free COVID-19 treatment after they were diagnosed of the disease. As the days went by, more imported cases were recorded.
Due to the influx of COVID-19 cases, both imported and locally transmitted, the Prime Minister made an announcement on April 7 cancelling Khmer New Year celebrations, the biggest holiday of the year, to stop the spread of the virus.
On April 8, the government implemented strict quarantine rules for all people entering Cambodia, either by air or by land, including migrant workers, while schools and businesses were shuttered.
On April 9, the Ministry of Health reported a 'relapse' patient, a 40-year old man living in Phnom Penh's Russey Keo district who was discharged after approximately 15 days of treatment. However, health authorities noticed he developed symptoms synonymous with the virus after being treated, and two further tests came back positive.
On the same day, Prime Minister Hun Sen issued an order for a week-long ban on all travel across the country.
Although the cases recorded in Cambodia have not been consistent, the World Health Organization (WHO) warned that there is a high risk of a second wave, despite a good response to the first phase.
After no COVID-19 virus cases were recorded for more than a month, the government lifted the entry ban for people from six countries: Iran, Italy, Germany, Spain, France and the United States on May 20, more than two months after it was put in place to prevent imported virus cases.
The decision was made alongside reopening businesses in priority sectors, in a bid to boost the national economy, which had been hugely affected by the pandemic.
A $3,000 deposit was required for foreigners entering the Kingdom in the middle of June to pay for virus prevention services, which was later reduced to $2,000.
On August 1, the government suspended flights from Malaysia and Indonesia as the Health Ministry noted a significant increase in imported cases of COVID-19, most of whom took flights from Malaysia and Indonesia, later including the Philippines in the ban. A total of 13 Chinese nationals tested positive in Cambodia after flying from the Philippines.
In a span of months, Cambodia continued recording positive cases, mostly imported, including the Hungarian Minister of Foreign Affairs and Trade Péter Szijjártó who visited Cambodia and tested positive for COVID-19 on November 3. Mr Hun Sen himself went into a self-quarantine and tested thrice following this incident, which all came back negative.
This prompted a two-week closure of public and private educational institutions in Phnom Penh and Kandal provincial town after nearly 900 people came into direct and indirect contact with the Hungarian foreign minister during his visit. A 31-year-old Cambodian man who was assigned to protect the Hungarian delegation during their visit as well as two Cambodian officials and the Hungarian Ambassador to Cambodia subsequently tested positive for the virus.
Shortly after, the first community outbreak was recorded on November 28. The Director General of the Interior Ministry's Prisons Department Chhem Savuth was reported to have tested positive for COVID-19, believed to have been contracted from his wife who also tested positive. This led to further closures of schools and other establishments, including Zando and Pedro shops in Phnom Penh.
The "November 28 community incident" and now the Cambodian migrant workers cluster infections, which stands at 82 cases as of Monday, were two of the single largest outbreaks in Cambodia. The patient zero from November 28 has yet to be identified, even though the strain was isolated and identified.
Mr Hun Sen talked vaccines on September 24, asking Russia to provide doses to Cambodia in a move to stem spread of the virus across the country. However, on January 15, he announced that the Chinese government will provide one million doses of vaccines to Cambodia to vaccinate 500,000 people. He informed the public that he will get the vaccine first to instill trust among the people.
Li Ailan, WHO representative to Cambodia, told Khmer Times that the Kingdom has made extraordinary efforts to fight COVID-19 in the past year and the results have been really amazing.
"In my opinion, numerous factors have contributed to Cambodia's successful response: past investment in the core public health system and pandemic preparedness, strong leadership and a whole-of-government approach, public communication and community engagement, good collaboration between the government and partners, especially the Ministry of Health, WHO, US-CDC and the Institut Pasteur du Cambodge," she said.
"I believe that Cambodia has learned many things from the COVID-19 response in 2020. First, we have learned that we must continue to invest in pandemic preparedness, as preparedness is the best way to minimise health, social and economic impacts. COVID-19 will not be the last disease to cause a pandemic. Second, we have seen the importance of engaging local communities, including vulnerable populations, to understand their needs, improve health outcomes and ensure everyone can adapt to the 'new normal' and protect themselves from COVID-19. Third, the health system must be transformed for the future. A strong health system is necessary to managing COVID-19 and meeting future health challenges," she added.
She added that it is good news that vaccines will be available in Cambodia sometime in 2021. According to her, safe and effective vaccines will be an important tool, in combination with other measures, to protect people against COVID-19 and save lives. However, even the most effective vaccines will not end the pandemic on their own. For instance, it is too early to know if COVID-19 vaccines will provide long-term protection against the virus.
Quach Mengley, a medical professional and businessman, said he hopes that Cambodia can have vaccines soon.
"So far, I see it in an optimistic way that China has provided us some Sinopharm and the government is looking to secure more (vaccines) from China, India and securing more from other countries," he said.
Although no deaths have been recorded related to COVID-19, two men died while under quarantine in Tboung Khmum province on July 23, 2020, and January 2, 2021, both of whom were suspected to have died from a heart attack. Khmer Times