Cambodia's milled rice exports to US expected to increase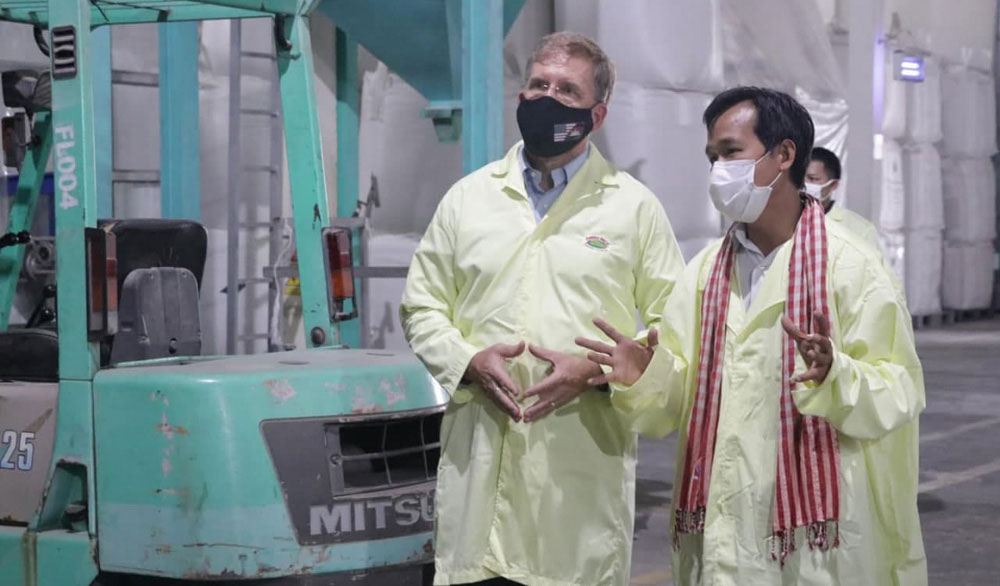 Cambodia Rice Federation (CRF) has placed high hopes on the export of more Cambodia's milled rice to the world's largest economy.
Mr Song Saran, President of CRF and CEO of Amru Rice (Cambodia) Co. Ltd., said with the American-standard silo installed at Amru Rice's rice mill in Battambang province, the quality of Cambodia's rice will be further enhanced and more rice exports are expected for the U.S. market.
The remark was made during a recent visit by U.S. Ambassador to Cambodia. W. Patrick Murphy to the rice mill, according to a CRF's Facebook post.
"American standard is so-called gold standard, so we believe that the American technology will boost the Amru Rice to get more successful on investment as well as support the whole rice supply chain," Mr Saran said.
With the high technology in the rice production chain and government's efforts to promote milled rice on the international markets, American people will know and acknowledge the quality of Cambodia's rice, the CRF president added.
For his part, the U.S. ambassador lauded the good cooperation between Amru Rice and U.S. firm reflected by this American-standard silo installation.
Murphy said the U.S. is happy to support Cambodia, especially in the rice sector, in order to ensure the progress and sustainability of the agricultural sector in the Kingdom.
Cambodia's milled rice was shipped to 60 countries around the world, including China, 24 countries in the European Union, six countries in ASEAN, and 29 other countries, and 76 companies engaged in the exports.
Last year, outbound shipments of milled rice accounted for 690,829 tonnes worth nearly $539 million, up 11 percent from 2019. Chea Vannak – AKP