Safari animals treated with love and care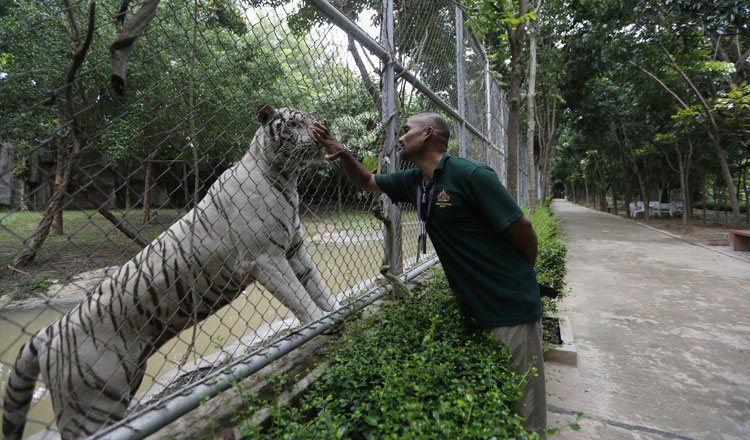 After a recent article in Khmer Times about animal habitats in zoos and safaris, Phnom Penh Safari's general manager Satavuth Tem Tup gave Khmer Times the opportunity to find out first hand how they take care of their animals and what facilities they provide.
"The animals here in our safari are trained with a huge amount of love and care. We cannot force animals to act contrary to their behaviour. We have a team of skilled trainers  and we are working hard to make all of these activities more natural for the animals," Tem Tup said.
"Phnom Penh Safari is private property owned by Oknha Ly Yong Phat whose motive is to conserve wildlife and natural forest. He established this zoo for educational purposes so children can see different and rare species that are on the verge of extinction. The zoo is also a tourist attraction," added Tem Tup.
He said the property covers around 27 hectares, housing 97 species and a total of 2,000 animals and currently employs two veterinarians along with a few assistants who have specific skills in animal care.
"In case of any emergencies, they can contact our experts in Thailand for advice or help," Tem Tup added.
The safari employs a total of 200 people who are divided into 11 departments involved in animal care, infrastructure cleanliness, forest management and animal training.
As Phnom Penh Safari is privately owned, there is no involvement from NGOs or the government. During the difficult situation of COVID-19, the management has been growing vegetables and grass for some animals to save money. However, they spend around $25,000 to $50,000 per month on food supplies for the animals.
They suspended their business in mid-February due to COVID-19 and since reopened on June 14. The management said they have seen an 80 percent drop in business since the pandemic started. Before COVID-19, they had at least 200-300 visitors on weekdays and around 500 visitors on weekends, whereas now they have almost no visitors.
"We are learning from our mistakes when we were in Koh Kong resort with regards to animal health. That is the reason we are trying our best in taking better care of the animals by checking and vaccinating them as per the requirements to protect them from various diseases. We do not allow visitors to bring food from outside to feed the animals as we have our own stalls with fruits and food for visitors to buy if they want to feed the animals," Tem Tup said.
"We also have our own water supply system inside the zoo for animals to drink from and a separate mixed water system for the gardens and forest. After the animal shows, we release them in their own specific open areas, the size of which depends on the species, accompanied by lakes, grassland and trees which is like a natural habitat for them. We also provide vitamins to the animals in their food and drinking water," added Tem Tup.
Phnom Penh Safari is planning to improve some areas by expanding to create study areas related to nature and wildlife. However, a smaller cage is currently being built for small tigers to be kept in for the visitors to get a closer view.
The animals are taken good care of.
Credited: Khmer Times