National Table Tennis Championship kicks off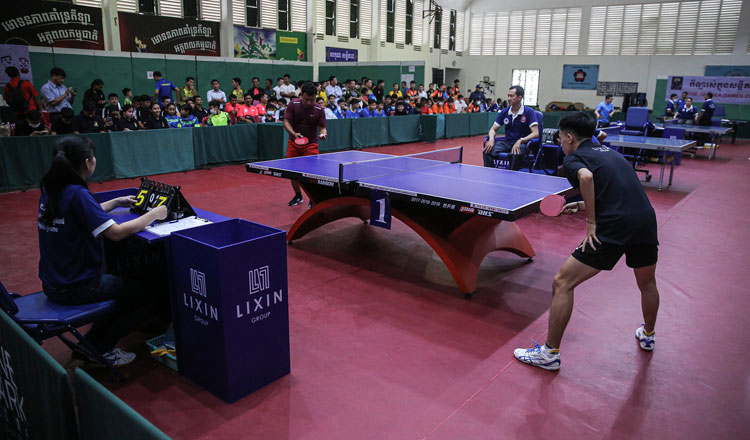 The biggest event of the year for the Cambodian table tennis community has started.
The National Table Tennis Championship, as the event is officially called, kicked off yesterday at the Olympic Stadium in Phnom Penh.
Tournament officials were joined by more than a hundred players and representatives from the Cambodia Table Tennis Federation (CTTF) during the opening ceremony.
National Olympic Committee of Cambodia Secretary-General (NOCC) Vath Chamroeun, National Police Chief Neth Savoeun and CTTF President Kirth Chantharith were among those who graced the occasion.
In his message, the NOCC Secretary-General discussed the history of table tennis in Cambodia.
Sun Roathana, team leader of the Umpire Committee, said there are 23 teams that are competing in the tournament.
There are 17 teams representing various table tennis clubs and another six from the provinces.
The clubs that are represented in the tournament include Dynamic Table Tennis Club, National Assembly, Lixin Group, Two Lions Table Tennis Club and City Sports Club.
The provinces that have sent teams to compete in the tournament include Siem Reap, Preah Sihanouk, Kampot, Kandal and Kampong Cham.
Sun said the tournament is divided into the Youth and Adult categories.
The National Championship is held every year to promote and develop table tennis. It is also serves as a venue for selecting the players who will represent Cambodia in international table tennis competitions.
"Some of them will have the opportunity to represent Cambodia in the SEA Games," Sun stressed, mentioning in particular the 2023 SEA Games which Cambodia will be hosting for the first time.
The CTTF and other sports federations in Cambodia are ramping up preparations ahead of the 2023 SEA Games.
The matches started at the conclusion of the opening ceremony.
The participants will battle it out in singles and doubles matches for six days.  The tournament will conclude on October 24.
Tep Veasna, who is playing for the National Assembly, said he is happy to be part of the tournament. "Win or loss, I don't care. I hope this will encourage more people to play table tennis," he said.
Strict health protocols were in place at the venue to prevent the spread of coronavirus. Everyone who went inside the building were subject to temperature checks and were provided face masks.
Credited: Khmer Times