Unicef lauds IDPoor scheme for protecting children amid pandemic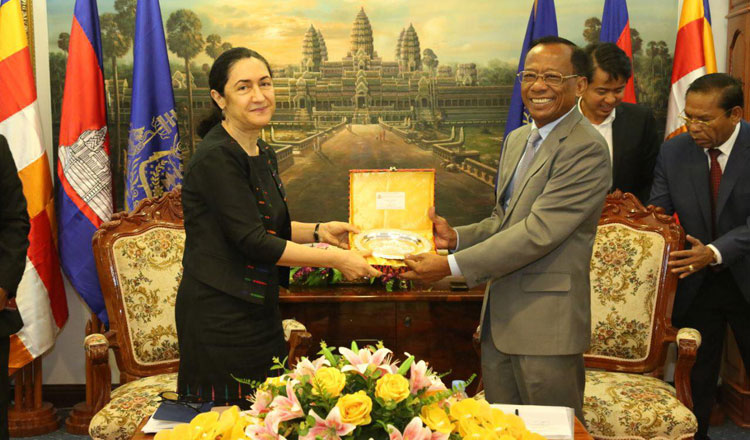 Unicef country director Foroogh Foyouzat has praised Cambodia for the IDPoor scheme and its ability to protect children from exposure to child labour and trafficking amid the pandemic.
The comments came during a working meeting with Minister of Social Affairs Vong Sauth, yesterday.
"The IDPoor scheme has been a great success. COVID-19 and the poverty it has created means that many children are potentially exposed to child labour and trafficking amid the pandemic," she said.
"However, the implementation of government cash subsidies for poor families has helped many poor families support their livelihood in Cambodia during the pandemic, stopping children being exposed," she said.
"Unicef is proud to continue supporting Cambodia in this important work," she added.
Sauth said yesterday that Unicef has been a valuable partner in helping support families amid the pandemic.
On June 24, the government launched a cash subsidy programme for poor and vulnerable families adversely affected by COVID-19.
The scheme saw the government provide monthly payouts to poor families, helping over 560,000 poor and vulnerable families affected by the coronavirus pandemic in the first month, at a cost of over $25 million.
"This month, the government IDPoor scheme is supporting around 690,000 poor families at a cost of around $31 million," he said.
He said that he hopes cash subsidies can continue, but the decision must be made by the government in due course.
On September 23, Sauth denied a report that the government had run out of budget to support the IDPoor subsidy programme, after the government suspended the cash support programme for pregnant women and children under two years for five days during the Pchum Ben festival between September 16 and 20.
He said that after the government agreed on the suspension, some groups said that the government was short of money.
"It is not true. Officials are also entitled to have their holidays during for Pchum Ben festival, which is why payments were suspended. Also, the people did not lose out as they still got paid after the holiday," he said.
He suggested that people listen to news from the government and relevant ministries instead of hearsay from others in future, regarding the reasoning behind such decisions.
He added that the ministry still suggests that those who believe they are eligible for the IDPoor scheme apply.
Credited: Khmer Times