Lifeline for local airlines: Firms allowed to offer transit flights to China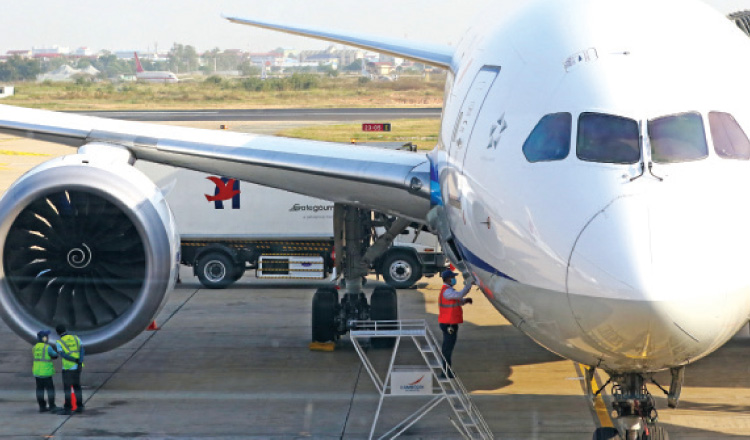 The government has given the green light to five local airlines to organise charter flights to pick up Chinese nationals who are stranded in the Philippines, Indonesia, and Malaysia and transit in the Kingdom for refuelling before departing to China.
The move is aimed at reviving the airlines' flagging fortunes.
According to a letter by the State Secretariat of Civil Aviation (SSCA), dated Monday and obtained yesterday by Khmer Times, the airlines are Cambodia Angkor Air, Cambodia Airways, Lanmei Airlines, JC (Cambodia) International Airlines, and Sky Angkor Airlines.
The letter said the airlines must not allow passengers to disembark and enter the Kingdom.
"The companies must have all flight attendants screened for COVID-19 and apply the Health Ministry's preventative measures," it said.
State Secretariat of Civil Aviation (SSCA) spokesman Chea Aun told Khmer Times yesterday that before picking up passengers, the Kingdom needs to use diplomatic channels and obtain approval from the three countries.
He said Cambodia's airports are almost closed due to the COVID-19 crisis, meaning foreign investors cannot come to invest in the Kingdom, directly affecting the economy.
"The international gate is very important. If there is no flights the airlines will face financial problems," Aun said. "Allowing transit chartered flights will help them to survive."
"We also want some activity in our airports and to avoid grounding airlines for a long time because we are also facing losses," he added.
Aun also said if the pilots do not fly, they will lose their flight proficiency and may require refresher courses.
He said the proposed chartered flights will only be occasionally available to avoid COVID-19 risks, adding that the service is also a humanitarian act to help stranded passengers.
Cambodia Airways Public Relations and Marketing Manager Sok Ravy declined to comment yesterday.
The government last month announced a temporary suspension of flights from the Philippines, effective from August 13, after 13 Chinese nationals tested positive for COVID-19 after taking flights from that country.
Earlier last month, the government also temporarily banned all flights from Malaysia and Indonesia, until the COVID-19 situation in those countries improve.
Credited: Khmer Times