GMAC: Minimum wage should be suspended during COVID-19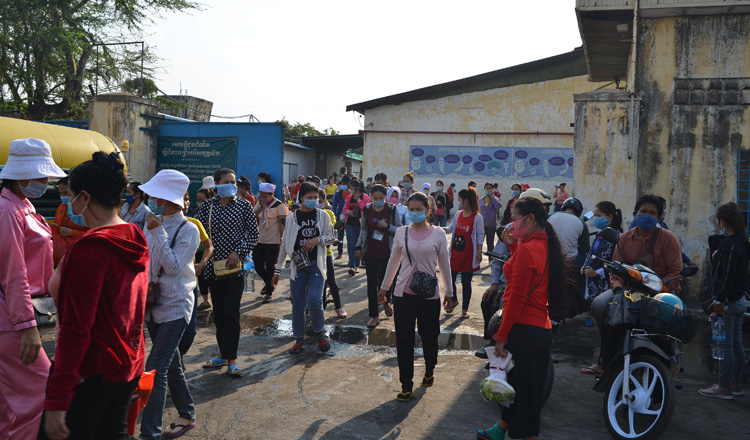 The guaranteed $190 per month minimum wage should be temporarily suspended, to ensure the sector remains competitive until the COVID-19 pandemic is resolved, says the secretary-general of the Garment Manufacturing Association in Cambodia (GMAC).
The comments came during annual minimum wage negotiations last week with local garment manufacturing unions and the association, with reports that some union leaders want to increase the wage to more than $250 per month.
Speaking to Khmer Times, the secretary-general of GMAC, Ken Loo, said, "Because of the current [COVID-19 pandemic] situation we should temporarily suspend the minimum wage and allow flexibility for employers to negotiate wages with their workers directly. When the situation normalises, then we can reinstate the minimum wage.
He explained that the temporary suspension of the minimum wage would be to ensure that the sector remains competitive in the region, because the COVID-19 pandemic has resulted in mass disruption to the Kingdom's economic pillar.
"If we are not competitive, businesses will close and workers will be displaced and face unemployment. Unions need to be realistic. The higher we raise the minimum wage, the more jobs we will lose and more workers will face unemployment," Ken Loo said.
In response to claims from union leaders that suspending the minimum wage could possibly lead to worker exploitation, Ken Loo said, "How does exploitation take place when it is a free market?  Workers are not forced to work and free to accept or reject any terms offered to them."
"If they can find employment with better terms, they are free to pursue those opportunities. Market forces would be the best way to set the right wage levels," he added.
The minimum wage for garment workers increased by 4.4 percent last year to $190 a month from $170 per month in 2018.
The wage also includes $7 for transportation, $10 for accommodation, 2,000 riels ($0.50) for meals and a seniority bonus of $2 to $11 bringing the average salary for workers to around $207 to $218 per month.
Any change to wages would affect more than 800,000 workers in the garment and textiles industry, which is Cambodia's largest employer, contributing more than $10 billion to the economy.
Cambodia's minimum wage is considered moderate around with Thailand's minimum wage set at 313 baht ($10) to 336 baht ($11). While Vietnam's wage has been set at VND4,200,000 ($190).
That said, industry insiders believe that while the COVID-19 pandemic causes such a drop in demand from European Union and US buyers – who purchase the majority of Cambodian orders – there is not much that lowering the minimum wage can do to help bring business back.
Credited: Khmer Times