Indian Embassy holds Yoga week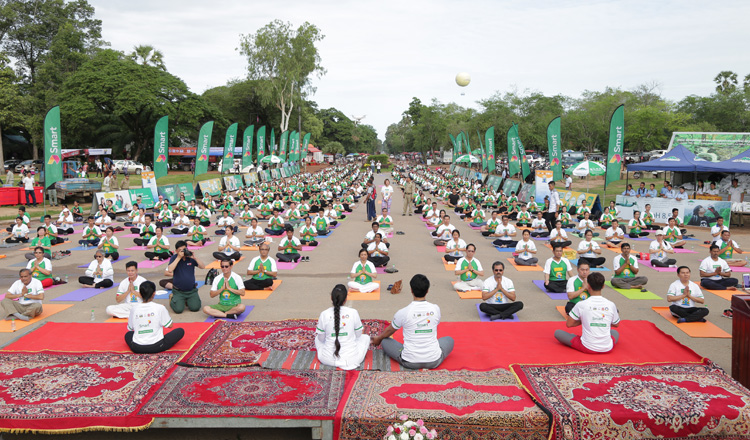 The Embassy of India in Phnom Penh is marking the 6th International Day of Yoga 2020 with scaled-down events due to the virus pandemic.
An embassy statement said it planned to organize a Yoga Week which will run from today until Saturday in the capital and another event in Siem Reap province on June 23.
Ambassador Manika Jain told media representatives that the International Day of Yoga is celebrated annually on June 21 to raise global awareness about the physical and mental health benefits of the ancient Indian practice.
She added that due to the prevailing COVID-19 pandemic and in line with this year's theme "Yoga at Home and Yoga with Family", the embassy is organizing Yoga Week in Phnom Penh and Siem Reap on a small scale with minimum physical participation and maintaining all social distancing protocols put in place by the Ministry of Health and the Royal Government of Cambodia.
There will be two main events this year, one at Wat Phnom, Phnom Penh on Saturday, and one at Ta-Prohm Temple in Siem Reap province on June 23.
Yoga is considered to be an ancient practice that originated in India about 5,000 years ago. The ancient form of health practice is essentially a spiritual discipline, which focuses on bringing harmony between body and mind.
It also comprises a variety of techniques consisting of different asanas (postures) and training of the mind through breathing techniques and meditation.
In the words of Indian Prime Minister Narendra Modi: "Yoga is an invaluable gift of India's ancient tradition. It incorporates unity of mind and body, thought and action, restraint and fulfillment, harmony between man and nature, a holistic approach to health and well-being. It is not about exercise but to discover a sense of oneness with yourself, the world and nature".
Yoga does not adhere to any particular religion or belief system. It has always been approached as a technology for inner well-being. This has become more relevant in view of the global virus pandemic as yoga is recognized to be a major tool of maintaining good health, boosting the immune system, and relieving stress and trauma.
The idea of International Day of Yoga was first mooted by Mr. Modi at the United Nations General Assembly on September 27, 2014.
Overall, it received support from 177 countries, the highest number of co-sponsors for any UN resolution, proclaiming June 21 as the International Day of Yoga. June 21 was chosen as it is the Summer Solstice, which is also considered as an important day in Indian mythology as it marks an event that could be considered the start of Yogic science.
Five editions of International Day of Yoga have so far been successfully held in Cambodia by the Embassy of India in collaboration with the Ministry of Tourism, Ministry of Culture and Fine Arts and Ministry of Education, Youth and Sports.
These events have received overwhelming participation during the years and have become very popular due to the physical and mental health benefits. The Royal Government of Cambodia has been extending its continued support for promoting awareness about yoga practices.
This year, an Online Quiz Competition and Best Photography Competition on Yoga Asanas (postures) have been introduced and the link to the competitions has been active as of yesterday until Saturday. The results will be announced in due course on the Indian embassy's website: https://www.indembpp.gov.in or Facebook page: IndiainCambodia and Twitter handle:@indembcam to know more about International Day of Yoga related information. Khmer Times