Australia urged to get direct flight links off the ground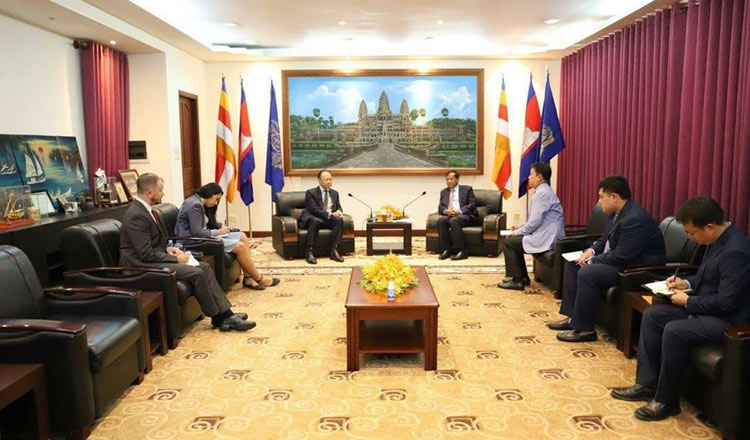 The Ministry of Tourism has called on the Australian government to speed up work on direct flights between the countries, hoping to promote more tourist arrivals from Australia to the Kingdom.
The plan was discussed in bilateral talks this week between Tourism Minister Thong Khon and Australian Ambassador to Cambodia Pablo Chiho Kang, during which they exchanged insights into tourist arrivals to start post-COVID-19.
Minister Khon formally requested the Australian government through Ambassador Kang to help push direct connection with Cambodia, expecting to encourage holidaymakers when COVID-19 is over.
Currently, there are no direct flights between Australia and Cambodia, with passengers having to transit commonly in Singapore, Bangkok or Hong Kong.
"We believe that having direct flights between the two countries will certainly encourage the number of Australian tourists. Tourist arrivals from the country to Cambodia have seen a remarkable increase in recent years," he said. The Kingdom welcomed 6.6 million foreign tourists last year, of which 123,253 were Australian, a 3 percent hike over the year before.
Kang was quoted as saying that he pledged to convey the proposal to the Australian government, noting that he also helped to promote Cambodia as a tourist destination in his country with envisions having more Australian tourists visiting the Kingdom after the health crisis is over.
He added he himself had already visited some tourism sites in Cambodia, including well-known Siem Reap's Angkor Wat archaeological attraction, the coastal area of Sihanoukville, Kampot, Kep and Koh Kong. He said these places would be highly attractive to foreigners if better publicised. "I hope that Cambodia should be the first choice of destination for tourists to visit once COVID-19 is over," he said.
Phay Siphan, the government's chief spokesman, said he has based his conclusion on Cambodia's decision to allow cruise ship MS Westerdam to dock in Sihanoukville in February after five other nations, including Japan and Thailand, would not offer a haven amid COVID-19 fears.
There will be a boom in the tourism industry when people are once again allowed to travel and I believe that foreign tourists will flock to our country in return for our kindness in the MS Westerdam matter," Siphan said.
Credited: Khmer Times